[ad_1]

After Introducing It As A Taproom Special Last Year, The West Dallas Brewery Has Upped Its Märzen-Style Offering's Production For 2021. Good Thing, Too.
Welcome to On Tap! Each week in this recurring feature, we'll take an in-depth look at one of the many beers available in the crowded North Texas brew scene. The goal here is to look at these area beers without our local goggles on, and to wonder aloud, "Is this beer good or do I just like it because it's local?" Let's find out! Cheers!
This week, I sipped on Oktoberfest from Manhattan Project Beer Co.
Fast Facts about Oktoberfest

Style: Märzen
ABV: 5.5 percent
International Bitterness Units (IBUs): N/A
Color: Amber-orange
Proper Glassware: Willie Becher, Stein
Availability: Draught & Cans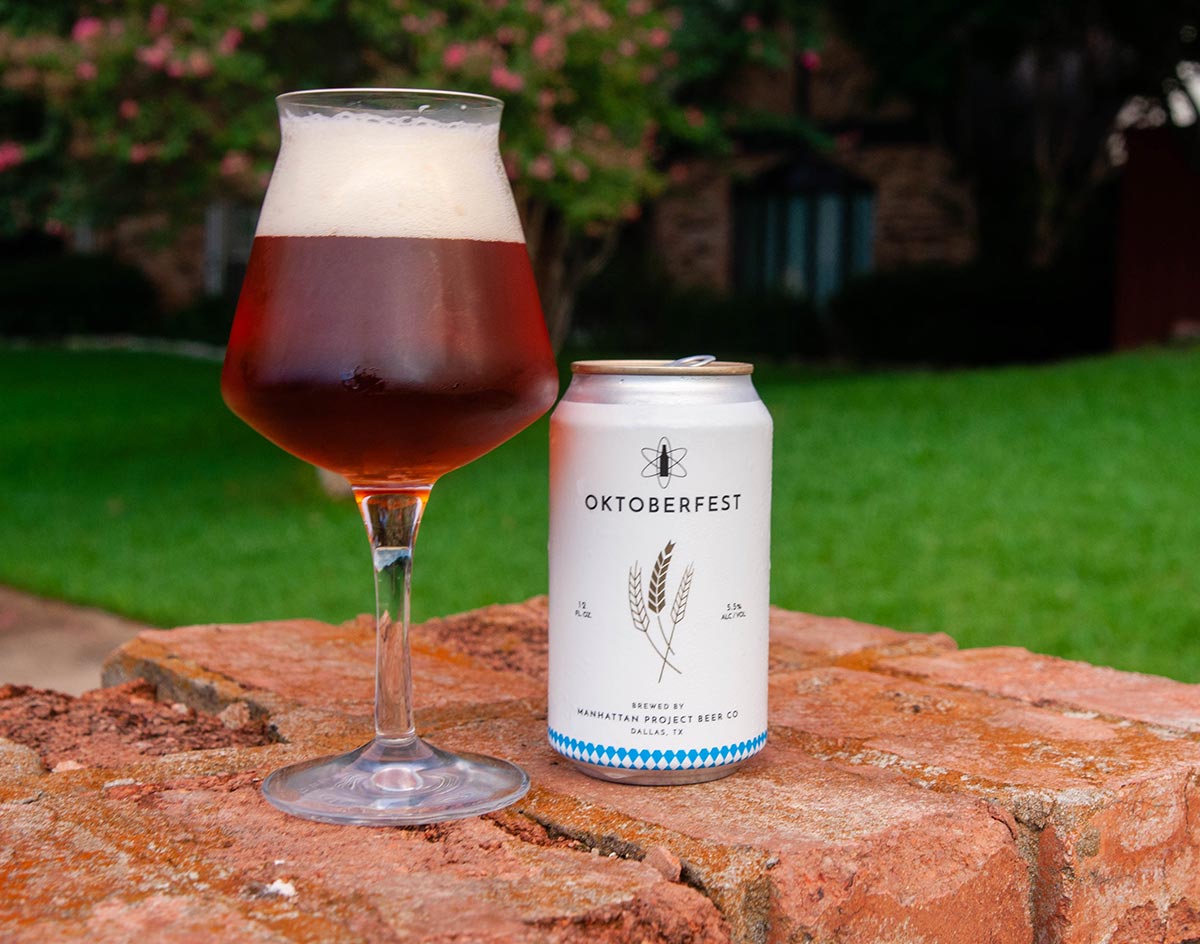 Overview
Hey kids, it's pumpkin-everything season! And that's why I'm reviewing a Märzen this week.
These days, pumpkin beer gets treated like Christmas to Märzen's Thanksgiving, and I think that's an injustice of the highest order. I'm good with pumpkin beer — hey, who doesn't like Christmas, right? – but, granted, I'm one who spends the 10 months when I can't get a Märzen waiting for the season to come around again.
If I could get a good local Märzen year-round, it would more than likely be my go-to style in any season.
This week, I found a treat waiting for me when I started checking the seasonals for this year's local Märzens. While Manhattan Project Beer Co.'s Oktoberfest isn't exactly new — they released it last year as a taproom-only brew under the name Van Braun — this is the first year it's been available in a convenient package form that I could take home.
Take that, pumpkin beer!
Background on Märzen
The Märzen style is a traditional German amber lager that highlights malt flavors, and specifically those of Munich malt. Hop and yeast flavor influences should be minimal. Proper Märzens should be well attenuated and dry to moderately dry. For more information on the history of Märzen, see the Central Track review of Mondlift from Wild Acre Brewing Company.
Appearance
Oktoberfest pours amber-orange with a strong off-white head. Once the chaos of the pour clears, this beer has the brilliant clarity displayed by the finest lagers, showcasing the amazing the colors. While the foam stand is perfect at first, it shows less-than-average persistence and leaves no lacing on the glass to speak of. All in all, though, it's a visually stunning beverage at the pour.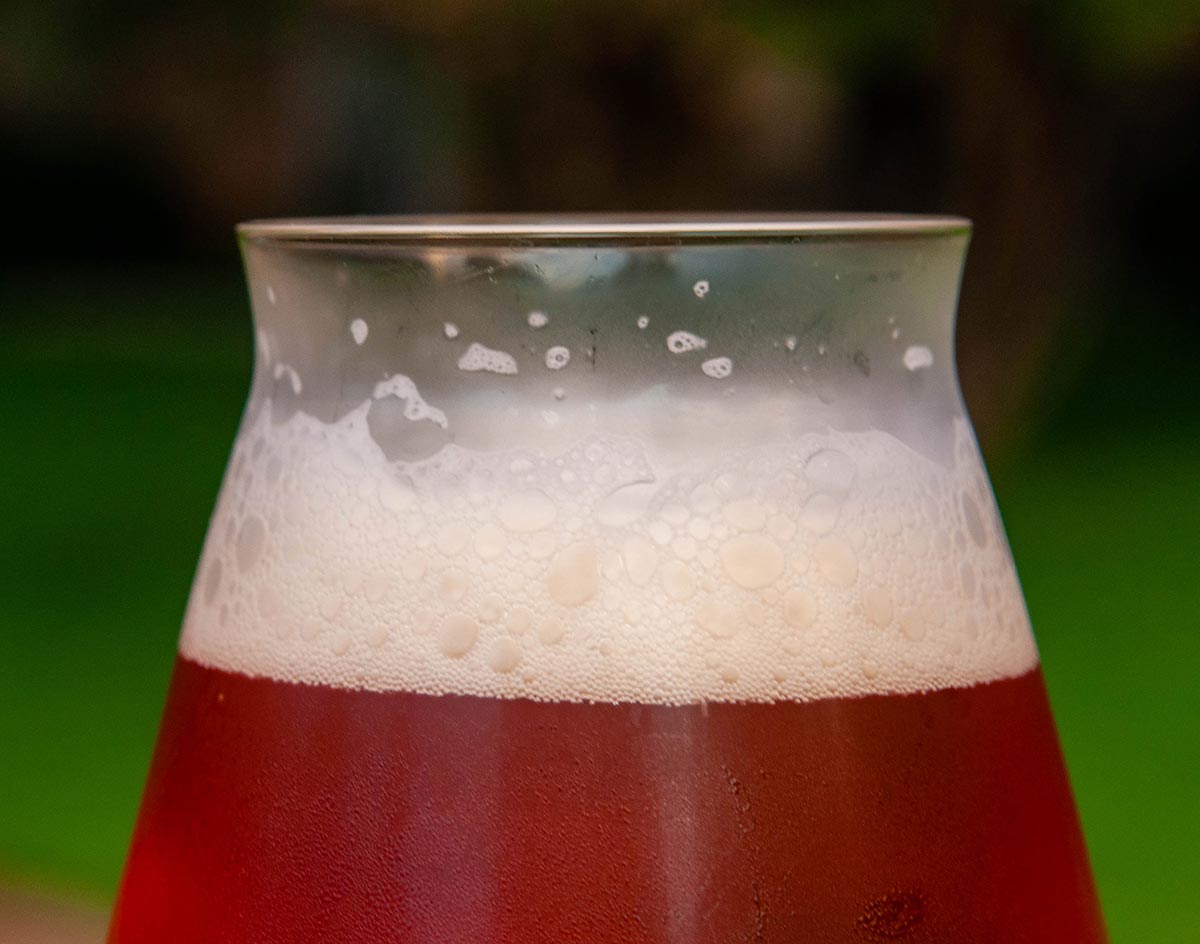 Aroma
The aroma produced by Oktoberfest is everything you'd expect in this style, and none of what you don't. It is showcase for German malt, providing a complex fragrance rich with bread, bread crust and light toast. There are faint hints of honey-type herbal notes hitting me that might be German hops, but might also come from the malt.
Flavor
You can really taste the bread and toast in Oktoberfest — and again with some of that subtle honey-style herbal flavor, but none of the honey sweetness. The bitterness is there for balance, but it is a minor player in the show this beer is putting on. There is also no trace of alcohol on the tongue at all — but, then again, it is a little underpowered for the style at only 5.5 percent ABV.
Mouthfeel
Oktoberfest is medium-bodied with medium carbonation, although it has a bit of a bite from the carbonation that detracts somewhat from what should be a smooth, creamy feel. While this beer is all malt, it has a medium-dry taste and finish that is on point.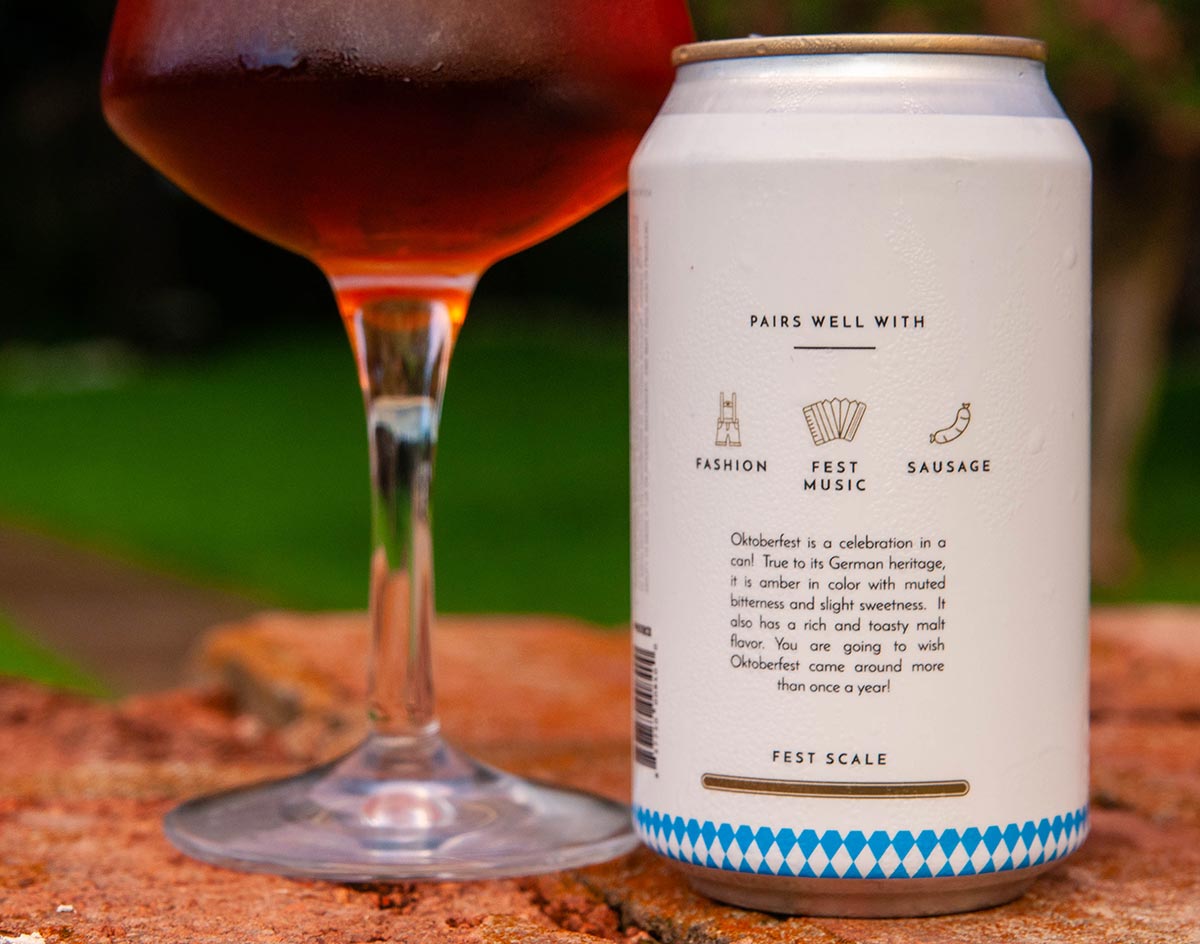 Overall Impression
While I've never had a mediocre beer from Manhattan Project, much less a bad one, I think they really excel at traditional, German lagers. These beers are harder to brew than most folks realize because of the clean and unforgiving nature of the styles. In short, there's just no where to hide with a beer like this.
Oktoberfest is absolutely no exception to this trend at MPBC, and I love it. It is rich and elegant, and it shows off the very best of the malt world. It has enough bitterness to let you know about it, sure. But, other than that, you wouldn't know this beer had ever crossed paths with any hops at all.
I do wish the foam stand were more persistent, but that has been a problem with every single Märzen brewed locally that I've ever tried. Honestly, it makes me wonder if it's something about our water in North Texas, as that would be the most common denominator. But even that isn't the same in any two breweries, and water chemistry is something most brewers adjust anyway.
I'm also not a huge fan of the name change. I know it's a small thing, but — issues aside — I've been pretty complimentary of MPBC's use of theme in all their brews, and especially the brilliant packaging of each. So, to me, dropping the original themed name of Van Braun for something as generic as Oktoberfest stings a little. Throw in the barley stalk can motif that is overused in the industry already, and the whole thing feels like a small betrayal to me.
Märzen's are something Metroplex breweries seem to just do well, though, and MPBC's Oktoberfest is absolutely no exception. So, before you reach for that pumpkin beer this weekend, remember that Thanksgiving comes before Christmas, and grab a six-pack of this great lager.
Besides, you'll have plenty of time to enjoy those pumpkin beers in late October and November once the Märzens have disappeared.
Score
On a scale of 1 to 10, I give Manhattan Project Beer Co.'s Oktoberfest an 8.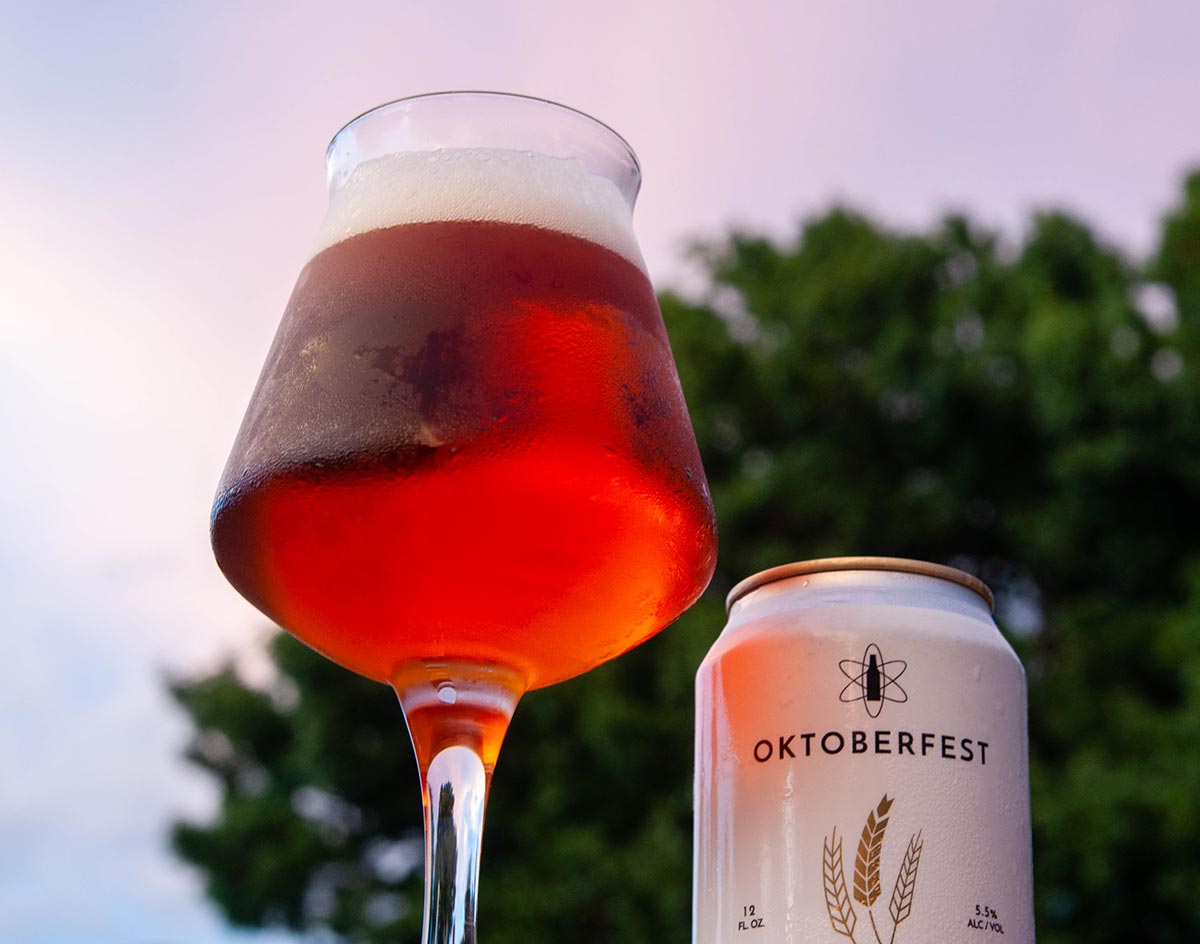 All photos by Bob Floyd.
Previous On Tap Reviews:
• Revolver's Sangre y Miel: 10.
• Lakewood Brewing's Salted Caramel Temptress: 10.
• Peticolas' Royal Scandal: 10.
• Community's Mosaic IPA: 10.
• Deep Ellum Brewing Company's Freak Flag: 10.
• Peticolas' Velvet Hammer: 10.
• Collective Brewing Project's Boysenbarrel: 10.
• Community's Barrel-Aged Legion: 10.
• Community's Legion: 10.
• Martin House River Horse: 9.75.
• BrainDead's Fill in the Blancs: 9.5.
• Oak Highlands' Freaky Deaky: 9.5.
• 903 Brewers' Birthday Sasquatch: 9.5.
• TUPPS Brewery's Full Grown Scallywag: 9.5.
• On Rotation's Flocculation of Seagulls: 9.5.
• Braindead Brewing's P-Wing: 9.5.
• Lakewood Brewing Company's Coconut Temptress: 9.5.
• Deep Ellum's Barrel Aged Four Swords: 9.5.
• Lakewood's Saint Dymphna: 9.5.
• Peticolas' Lost Epic: 9.5.
• Community's Ascension Porter: 9.5.
• Lakewood's Temptress: 9.5.
• Lakewood's Goatman: 9.5.
• Community's Public Ale: 9.5.
• Peticolas' Thrilla in Brazilla: 9.5.
• Collective Brewing Project's SMaSHY: 9.25
• BrainDead Brewing's Galactic Federation of Might: 9.25
• On Rotation's Lingonberry Sahti: 9.25.
• Martin House Brewing Company's The Morrigan: 9.25.
• On Rotation's Jalapeno Saison: 9.
• Woodcreek's Bourbon Barrel Bock: 9.
• Lakewood's Double Chocolate Temptress: 9.
• Braindead Brewing Company's Dr. Dreipricot: 9.
• Manhattan Project's Black Matter: 9.
• Lakewood's Wild Manimal: 9.
• Manhattan Project Beer Company's Necessary Evil: 9.
• Revolver's Blood & Honey: 9.
• Funky Picnic's Funny Accent: 9.
• Martin House's Imperial Texan: 9.
• Division Brewing's Smokin' Jack-o's: 9.
• Community Beer Co.'s Medical Grade Haze: 9.
• Wild Acre's Mondlift: 9.
• Community's Trinity Tripel: 9.
• Outfit Brewing's Cole: 9.
• Peticolas' Irish Goodbye: 9.
• Four Corners' Block Party Porter: 9.
• Bankhead Brewing Co.'s Giggle Water: 9.
• Cedar Creek's Belgian Dubbel: 9.
• Manhattan Project's Wise Monkeys: 9.
• Cedar Creek's Poblano Paradise: 8.75.
• Rahr & Sons Brewing Company's Oktoberfest: 8.75.
• Lakewood Brewing Company IPA: 8.75.
• Small Brewpub's Black Pepper Pils: 8.5.
• Peticolas' Ghost Of Alfred Brown: 8.5.
• Deep Ellum's Easy Peasy IPA: 8.5.
• Community Beer Company's Passiflora: 8.5.
• Deep Ellum's Oak Cliff Coffee Ale: 8.5.
• Community Beer Company's Wit 'N Wild: 8.5.
• Lakewood's Rock Ryder: 8.5.
• Rahr's Bourbon Barrel Aged Winter Warmer: 8.5.
• Lakewood's Raspberry Temptress: 8.5.
• Peticolas' Prime Minister: 8.25.
• Rahr & Sons Brewing Company's Winter Warmer: 8.25.
• Noble Rey Brewing's Barampus: 8.25.
• Martin House's Possum Kingdom Pilsner: 8.25.
• Community Beer Company's Brett's Get It On: 8.25.
• Bankhead Brewing Company's Aoogah!: 8.25.
• <a…
[ad_2]

Read More:On Tap: Manhattan Project Beer Co.'s Oktoberfest. | Central Track