[ad_1]

There are two types of people: the ones that plan and buy their Halloween costumes months in advance and the ones who either buy or make DIY last-minute Halloween costumes.
Halloween is the time of the year where people go all out with original, creative, and unique costumes and it's exciting as everyone looks forward to seeing some epic Halloween costumes.
That's why some people prepare in advance, putting together their carefully created costumes to show off. But who says you need all that time?
You're not the only one who might be wondering how you can dress up for Halloween without a costume because lots of people stress about a costume, however, sometimes the best costumes are the last-minute DIY ones.
If time hasn't been on your side and you need to come up with a last-minute Halloween costume idea, don't stress — there are so many different options to choose from that you can easily put together and still have a killer costume (pun intended). 
Instead of going with one of the top five Halloween costumes like a witch, vampire, cat, batman, or ghost, why not pick something different from this long list of last-minute Halloween costumes and be inspired to come up with your own DIY costume to stun the crowd.
Here are 75 DIY last-minute Halloween costume ideas to choose from this Halloween.
1. Wednesday Addams costume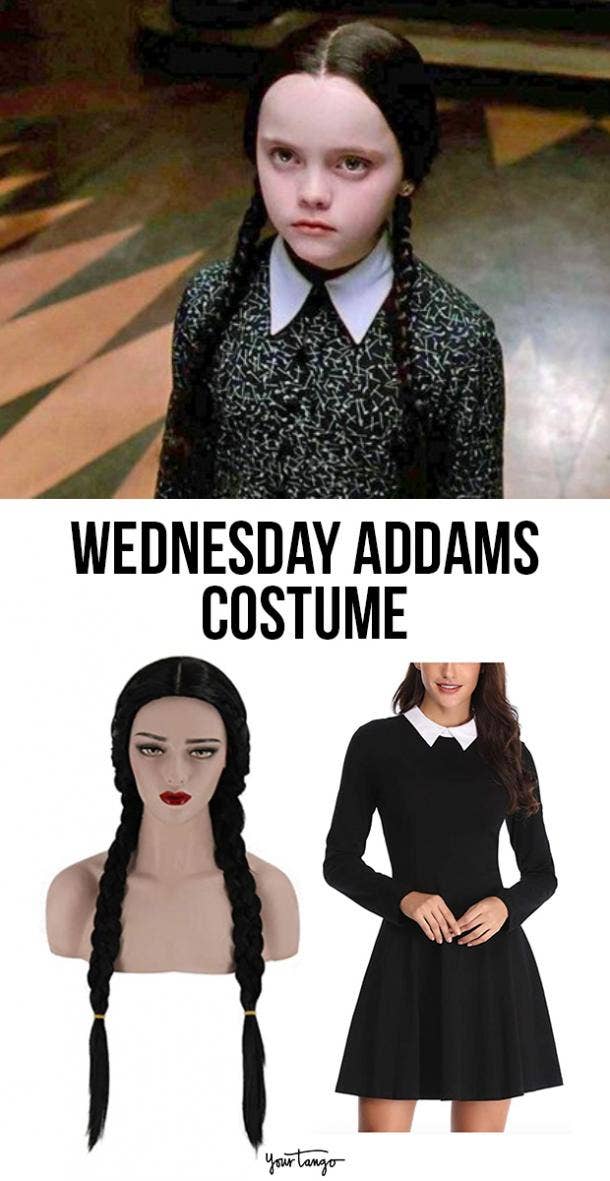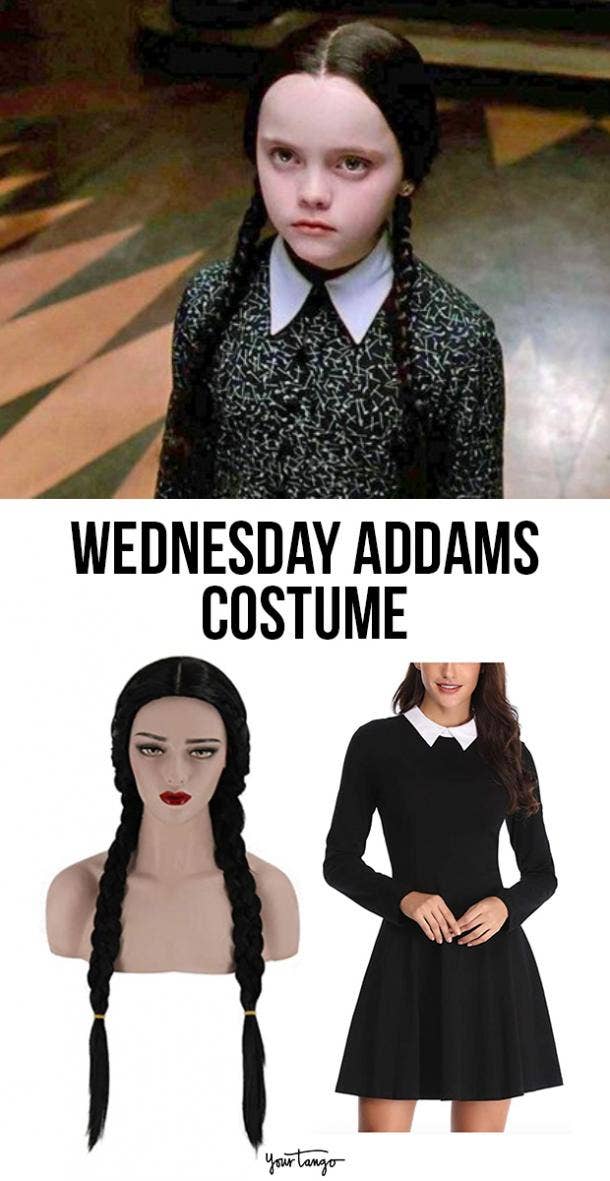 Photo: YouTube / Amazon
Our favorite character from "The Addams Family" is a classic DIY Halloween costume that's so easy to create. All you need is a little black dress, collared shirt, blank pantyhose, and black shoes. Then style your hair in braids and put on some dark makeup and there you go.
Super easy yet totally recognizable. 
2. Kim Possible costume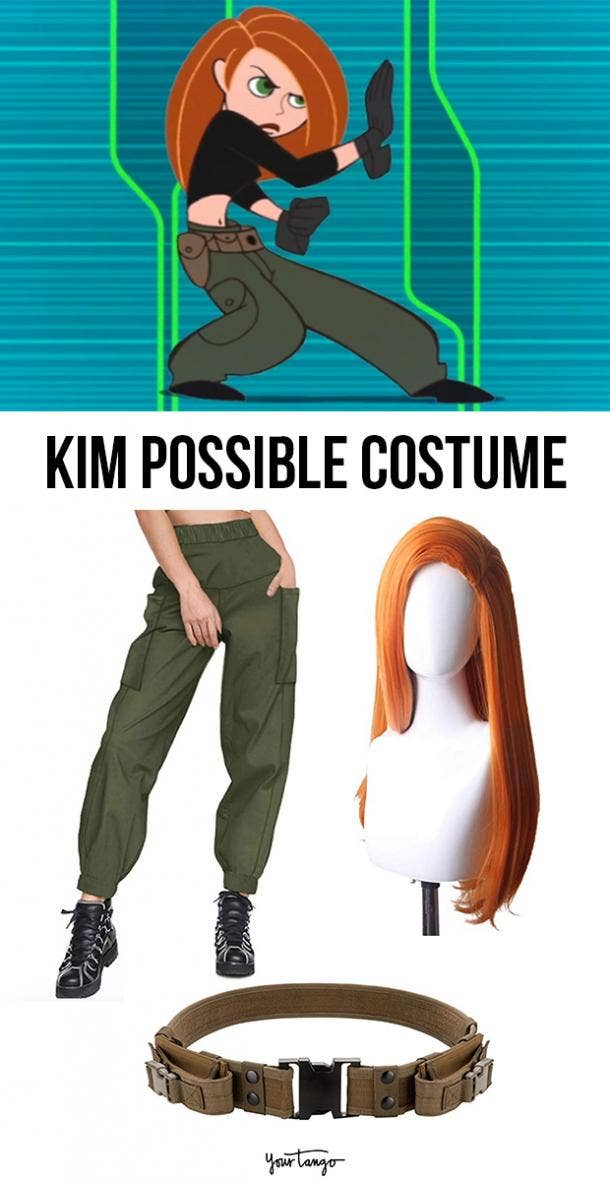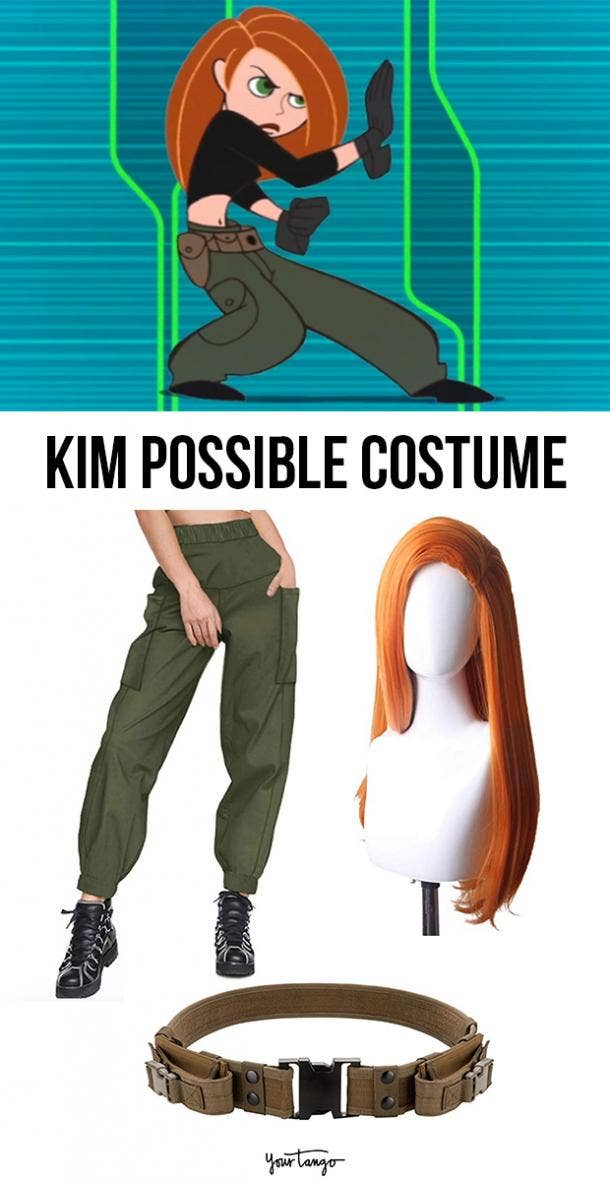 Photo: Youtube / Amazon
Kim Possible is one of the most recognizable Disney cartoon characters that's so easy to recreate. All you need is some green pants, a black shirt, and combat boots or black sneakers. Who cares if you don't have red hair? (Though the costume is even more recognizable if you do) and you could do a cute couples costume with this one as your partner could dress as Ron. 
3. Scarecrow costume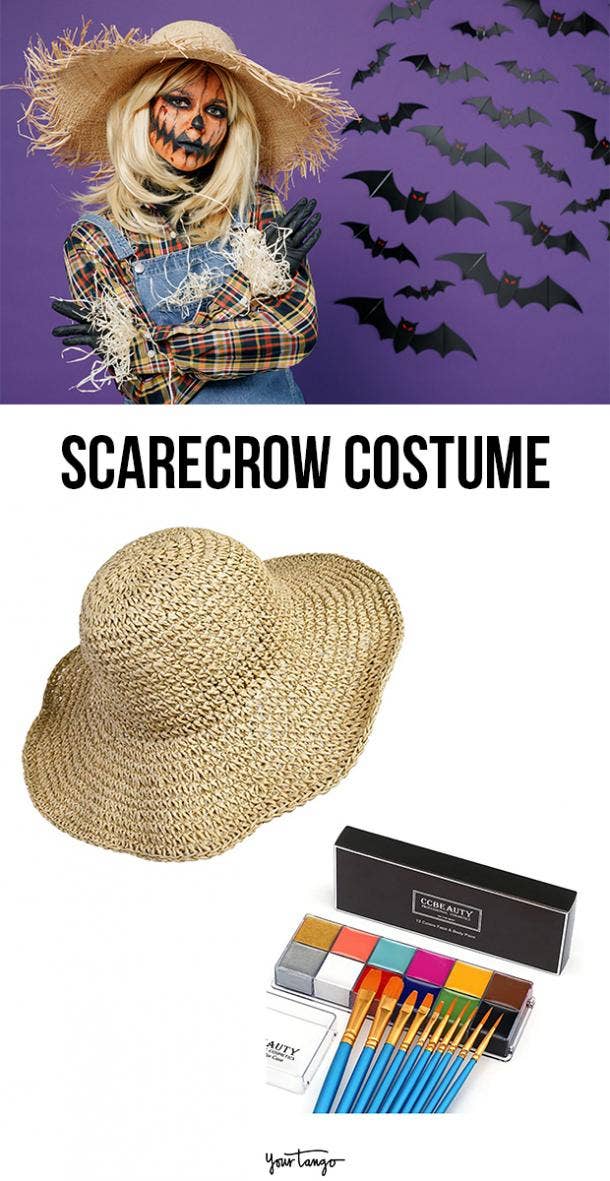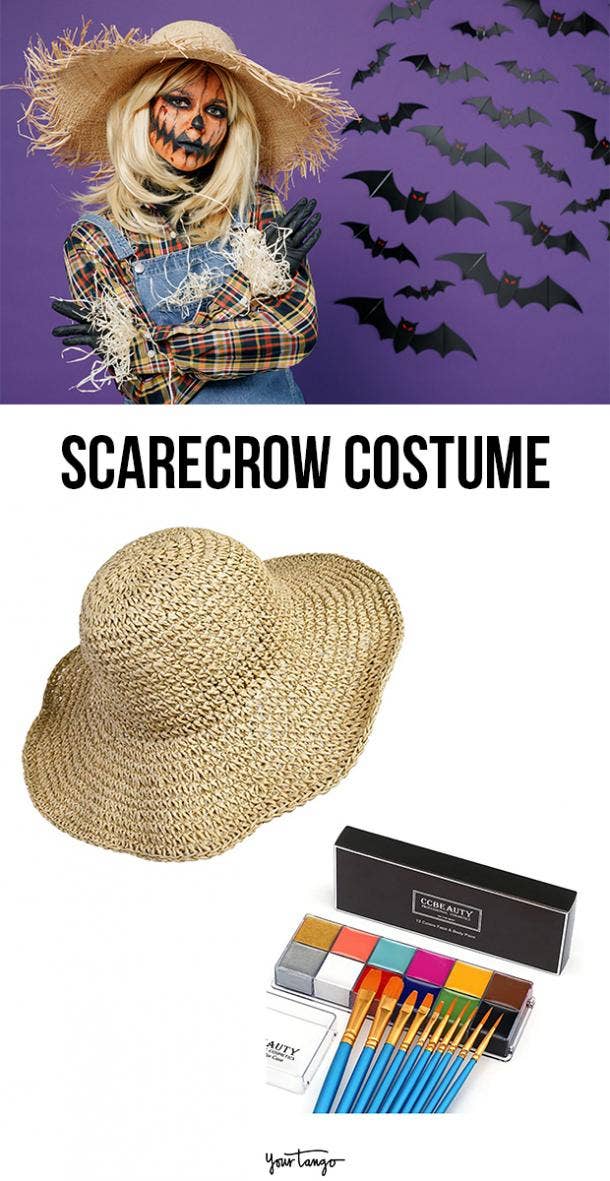 Photo: ViDI Studio / Shutterstock / Amazon
One of the most popular Halloween decor items in the Fall is a scarecrow, so why not dress up as one? This is one of the easiest costumes you can create as all you need is some of your makeup and a cute sunhat. 
Grab your trusted eyeliner and some red lipstick (or if you have face paint, even better) and draw some little circles on your cheeks and nose and create fake stitching lines and you're done!
4. Waldo from "Where's Waldo?" costume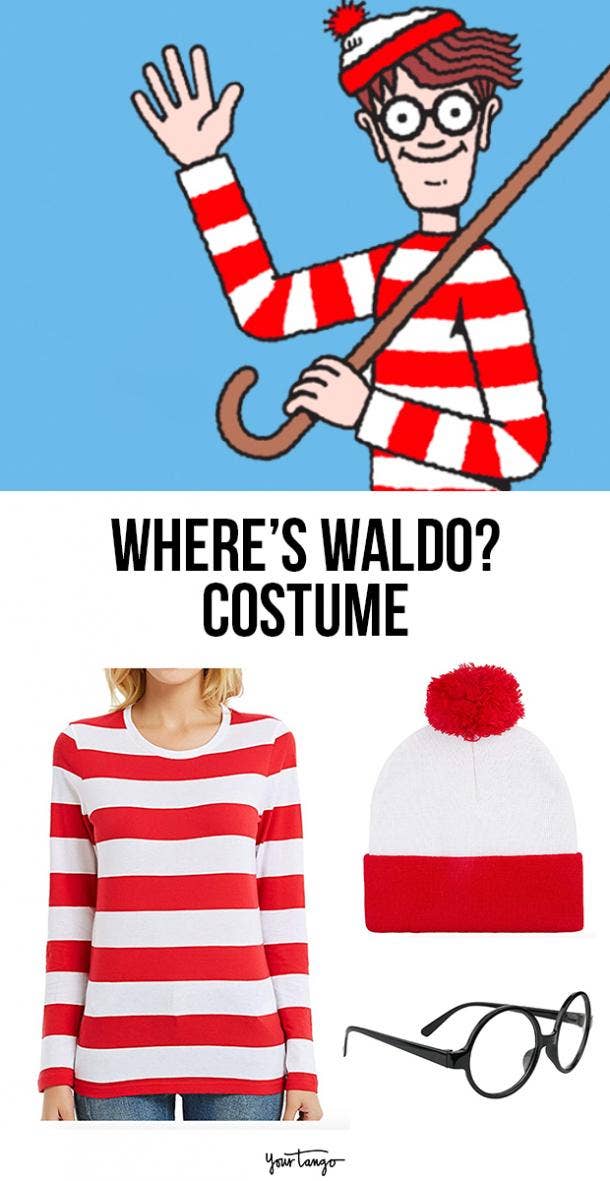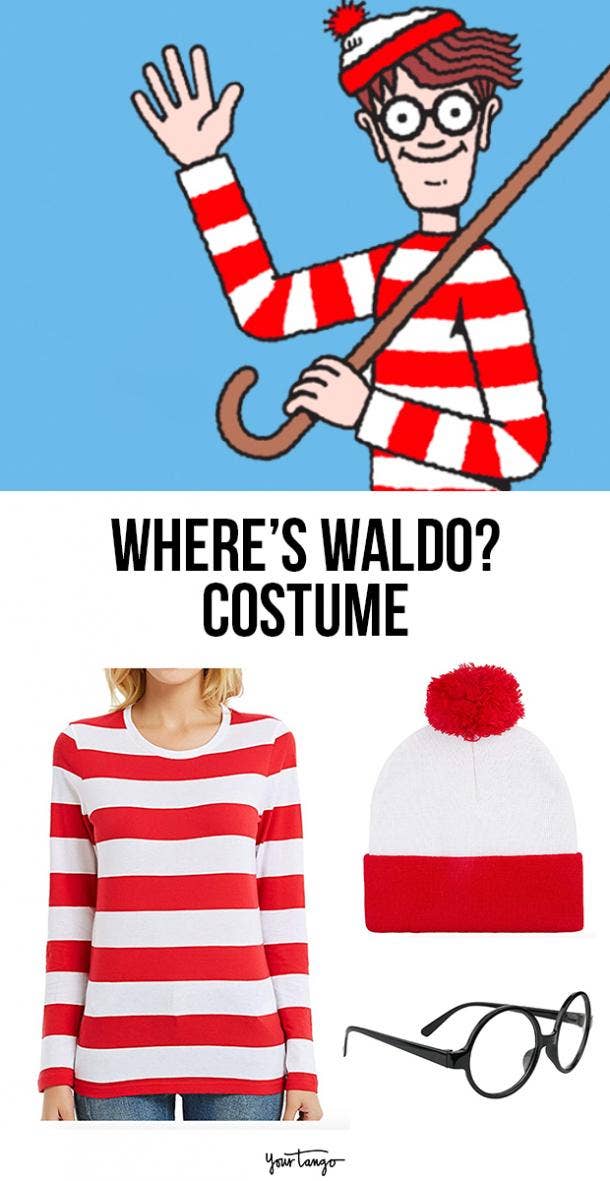 Photo: Classic Media / Amazon
We all know the iconic children's book "Where's Waldo?" and the best thing about this character is how easy he is to recreate. Pick one of your favorite striped shirts from your closet, add some jeans, a beanie, and some glasses, and you're done. You can hide in party pics and see if your friends can spot you at the party. 
5. Tinkerbell costume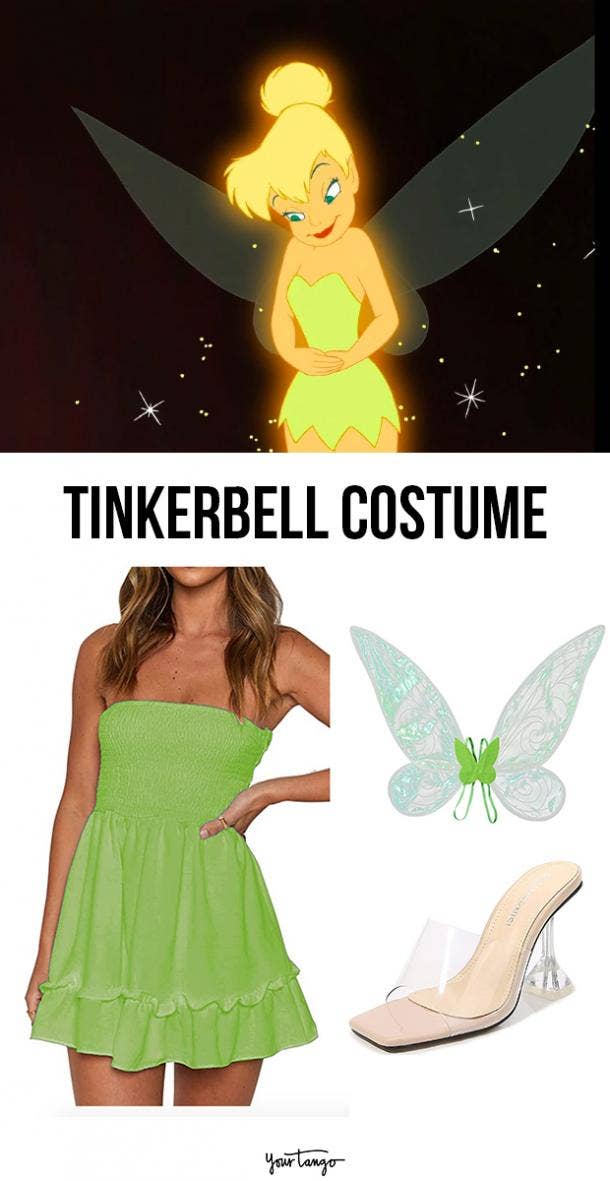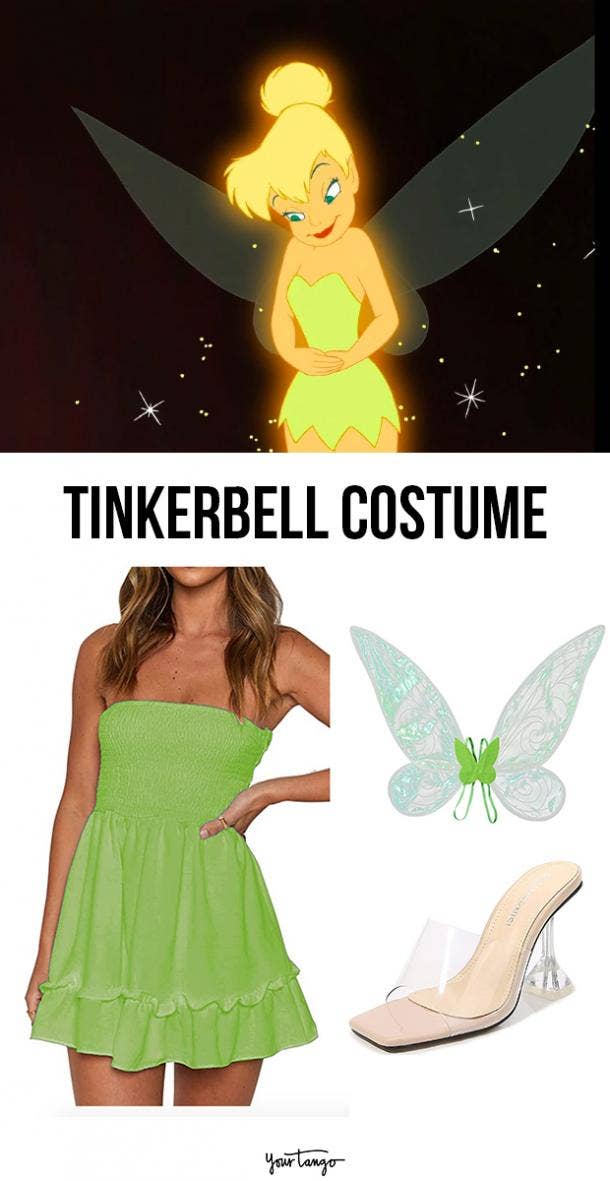 Photo: Disney / Amazon
Your favorite little fairy is a perfect Halloween costume to try and recreate. You just need a green mini dress, some tan flats or high heels, some white pom poms, and duct tape.
Make a fold of duct tape that's sticky on both sides and stick the pom poms to the front of your shoes, pin your hair up, and throw on your dress and you're good to go. 
6. Flower child costume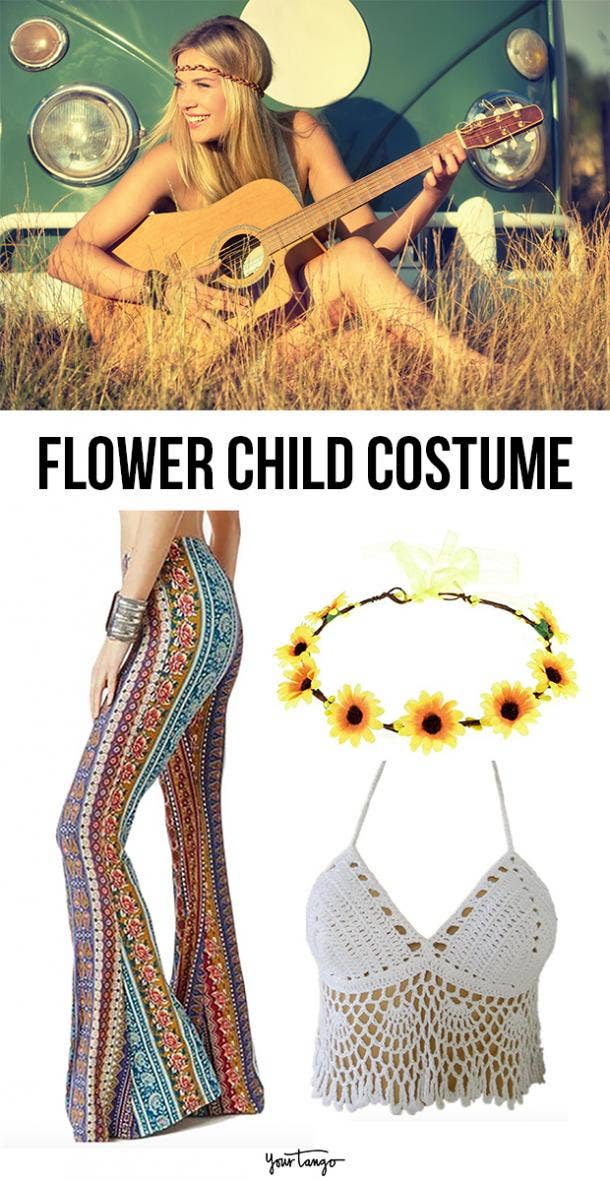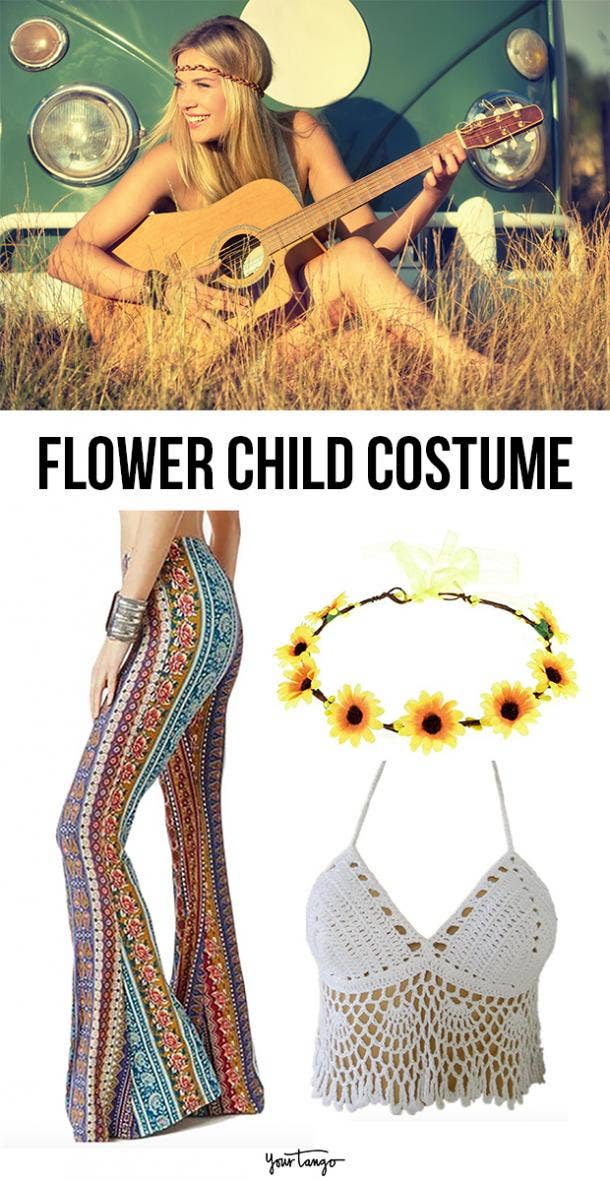 Photo: Grischa Georgiew / Shutterstock / Amazon
Everyone loves the 70's fashion and style so why not travel back in time and create your own 70's inspired costume.
All you need are flared pants, big platform boots or sandals, some sort of knitted or crocheted crop top, lots of jewelry, and for the obvious statement, you can buy or make a homemade flower crown. 
7. French Kiss costume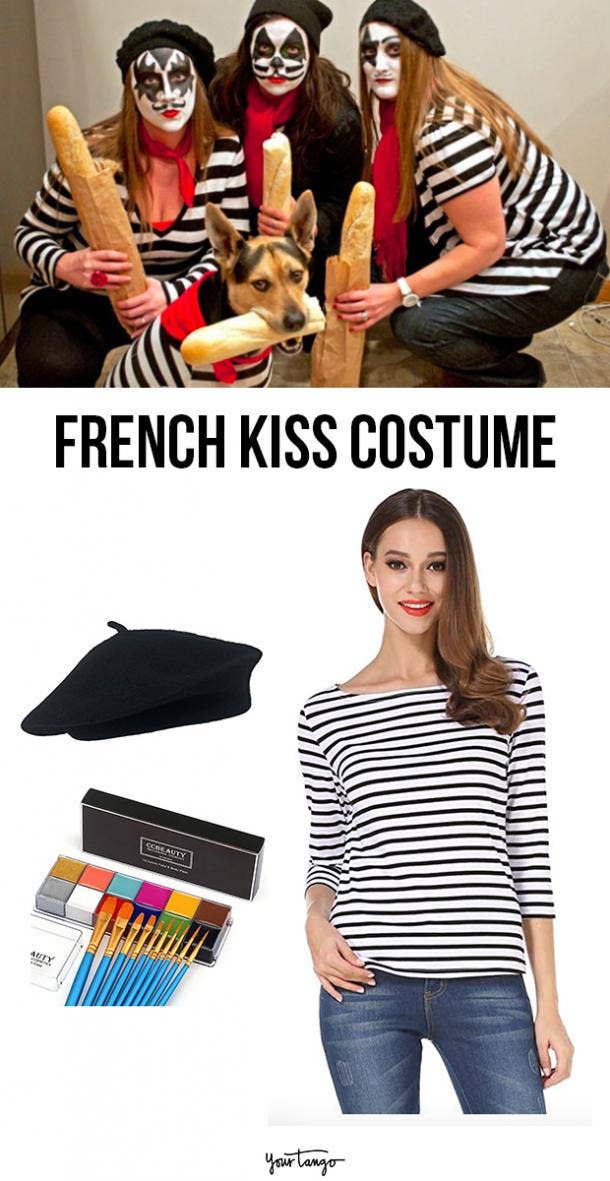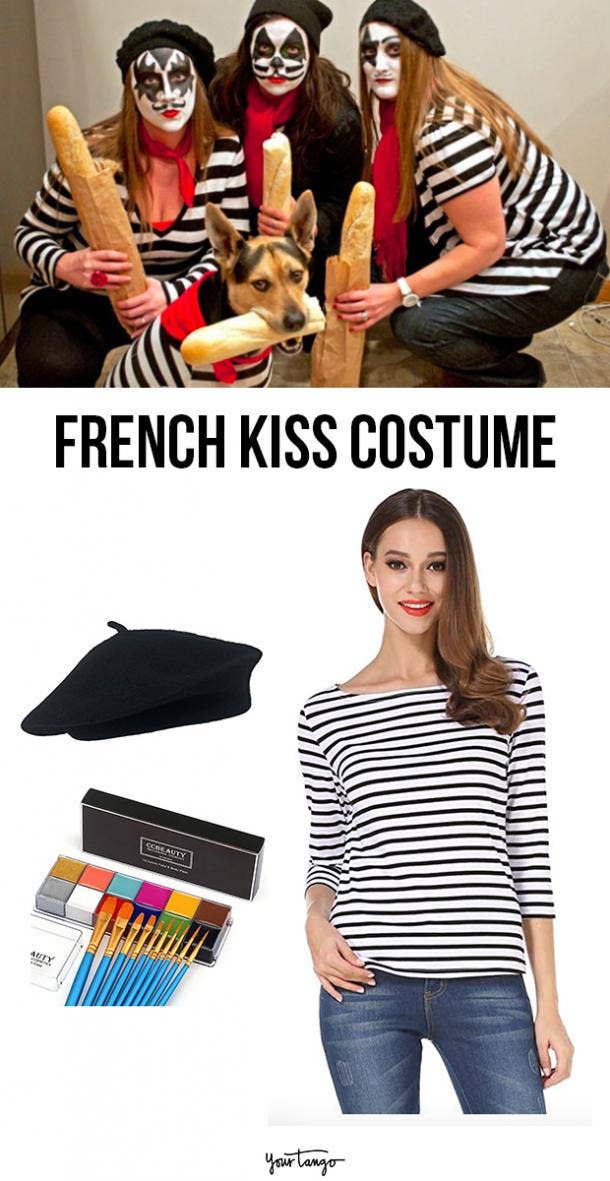 Photo: Maskerix / Amazon
We all know them by the iconic face-painted rockers in KISS. Create a play on words with some classic French staple items for a French Kiss.
Paint your face like a KISS bandmember and wear a classic French striped shirt and beret. Even better if you have a baguette or bottle of French wine to hold with you through the night.
8. Rosie the Riveter costume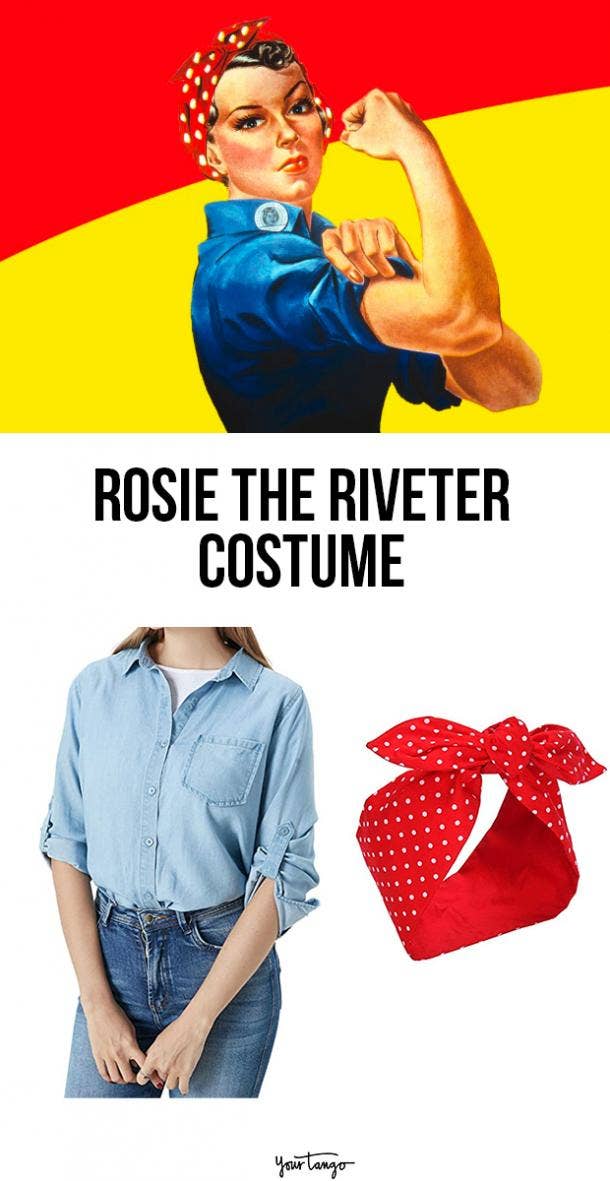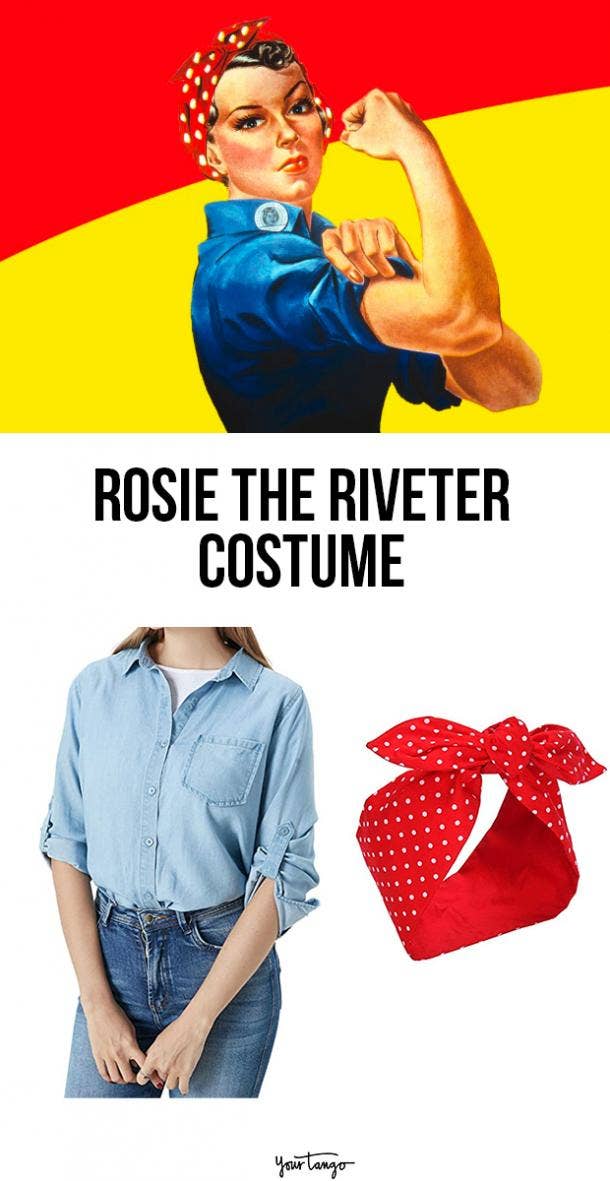 Photo: CNN / Amazon
The iconic staple image from World War 2, Rosie the Riveter is a classic picture we all know and love, and what's great about it is that it's easy to recreate as well. You just need a denim shirt or jacket, a bandana or scarf, and some red lipstick.
If anyone asks what your costume is, give them the flex of the arm and they will know right away. 
9. A Hogwarts Wizard costume
 Photo: Warner Bros / Amazon
Ever dreamed of being a student at Hogwarts? Fortunately, you can say you are on Halloween by dressing up in a school uniform with a tie in one of the Hogwarts house colors and a makeshift wand. All you need is a white polo, a sweater vest, a black tennis skirt, some knee socks, and oxfords or Mary Janes (or any other flats).
10. Bambi costume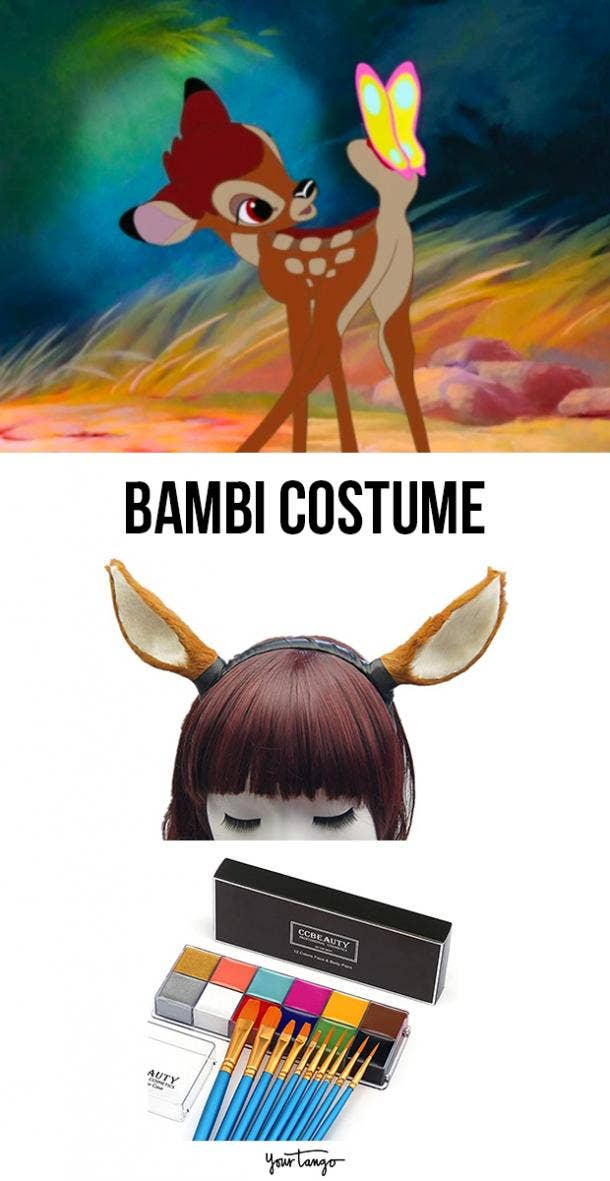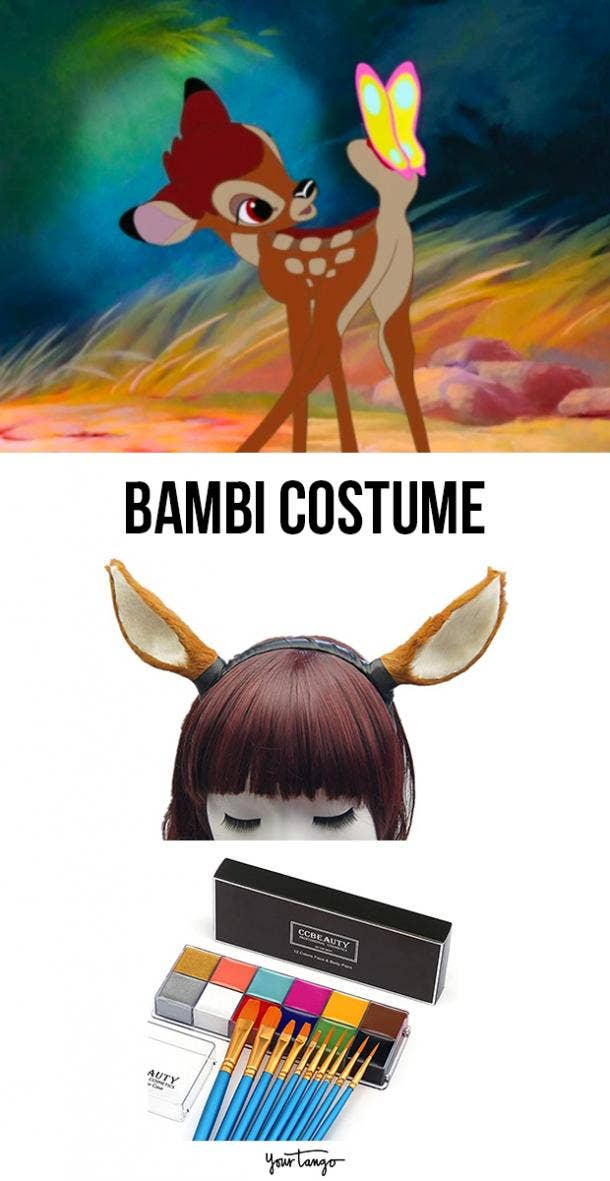 Photo: Disney / Amazon
Dressing up as a little Bambi is one of the most fun and creative costumes. It's all about the makeup for this one and there are some creative makeup tutorials out there to help you get it just right.
For your outfit, you can wear all brown and make some DIY ears with cardboard cutouts and some markers and Bobbi pins (or buy fake fawn ears on Amazon).
11. Elle Woods costume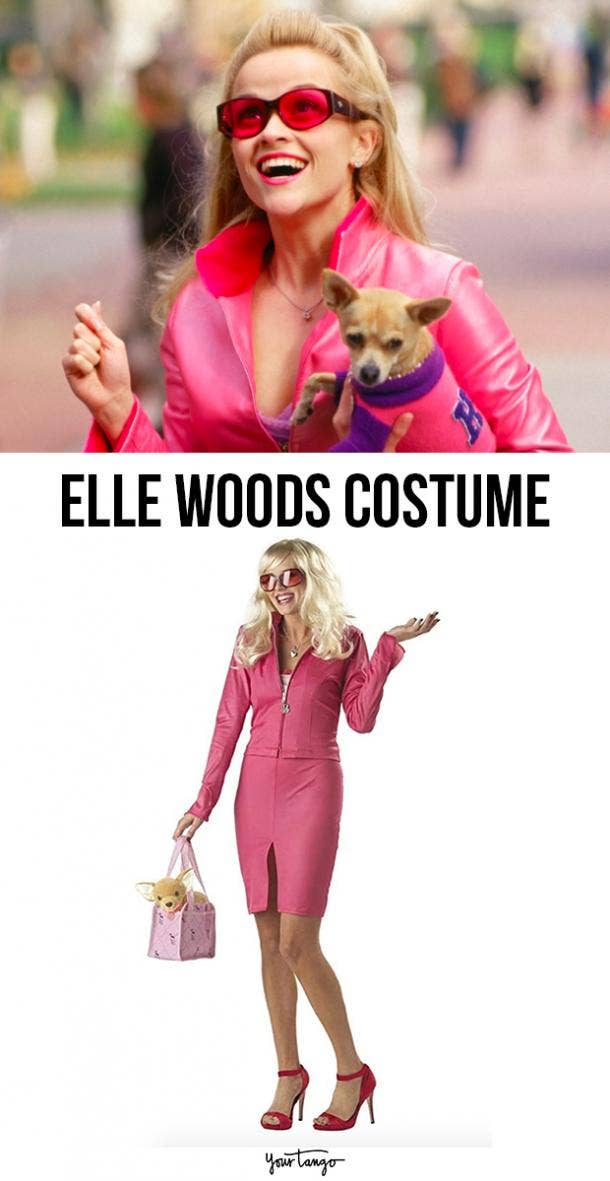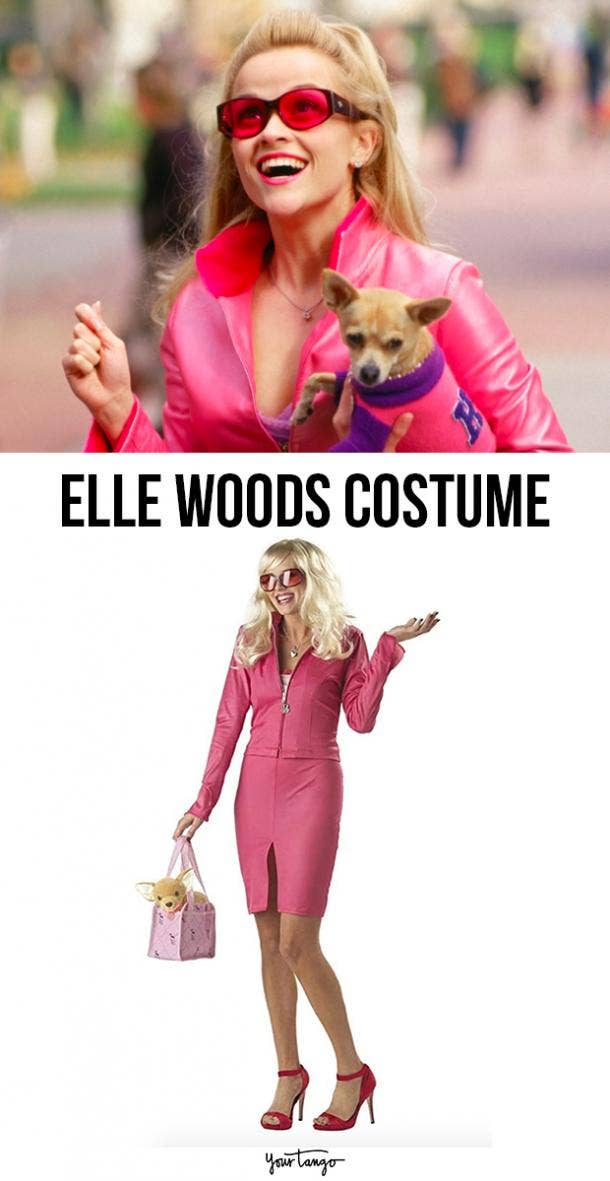 Photo: MGM / Amazon
It's your favorite Barbie-pink lawyer! Dressing up as Elle Woods can be so much fun and is a perfect costume for someone who owns a lot of pink in their wardrobe. All you need is pink everything: a pink jacket, top, skirt, shoes, purse, sunglasses, and it's a plus if you have your own little bruiser. 
12. Candy Rapper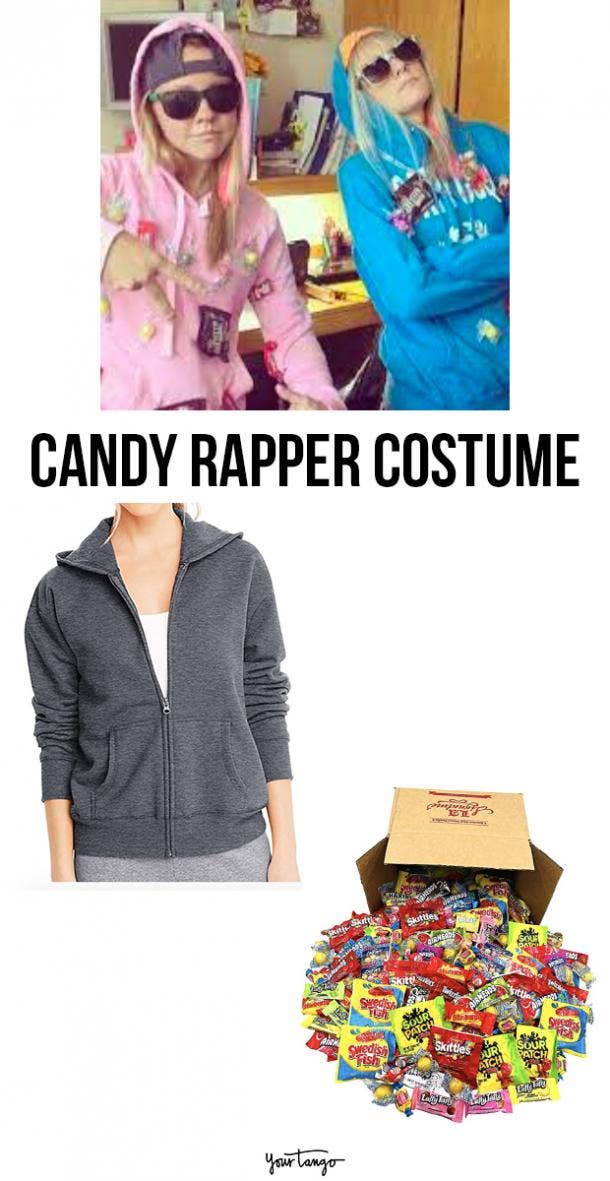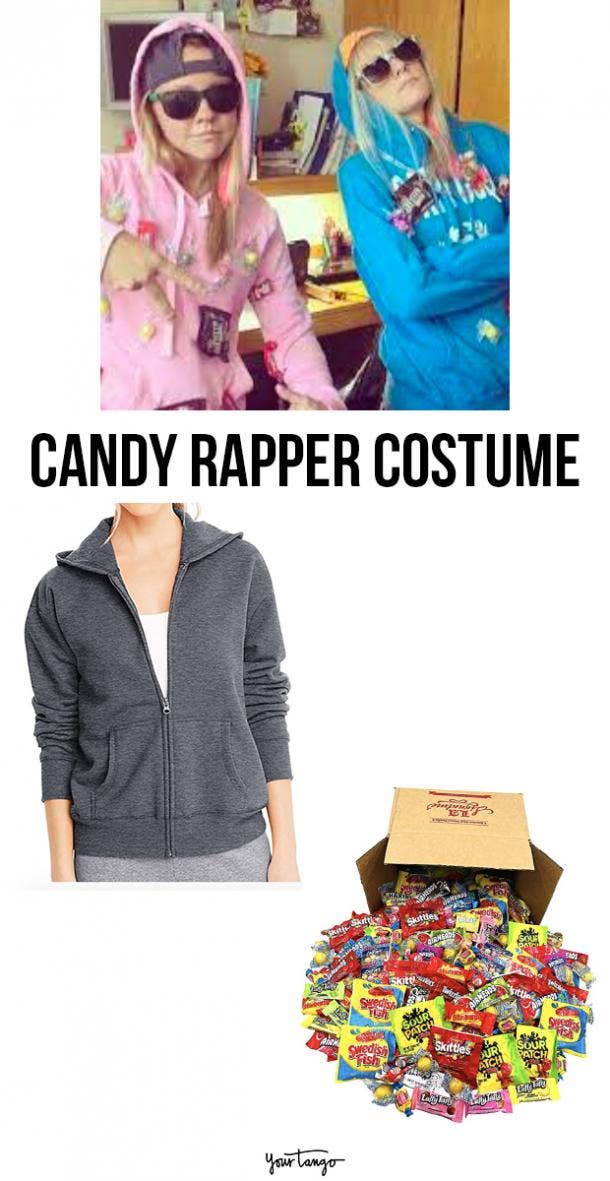 Photo: Pinterest / Amazon
If you ended up eating too much candy before Halloween and just want to wear a comfy sweatshirt, then this is the perfect costume for you. If you have some leftover candy wrappers in the trash don't throw them away for good! Tape them onto a sweatshirt and then add a backward hat and a printout of your favorite rapper taped onto your sweatshirt. 
13. Baby from "Dirty Dancing" costume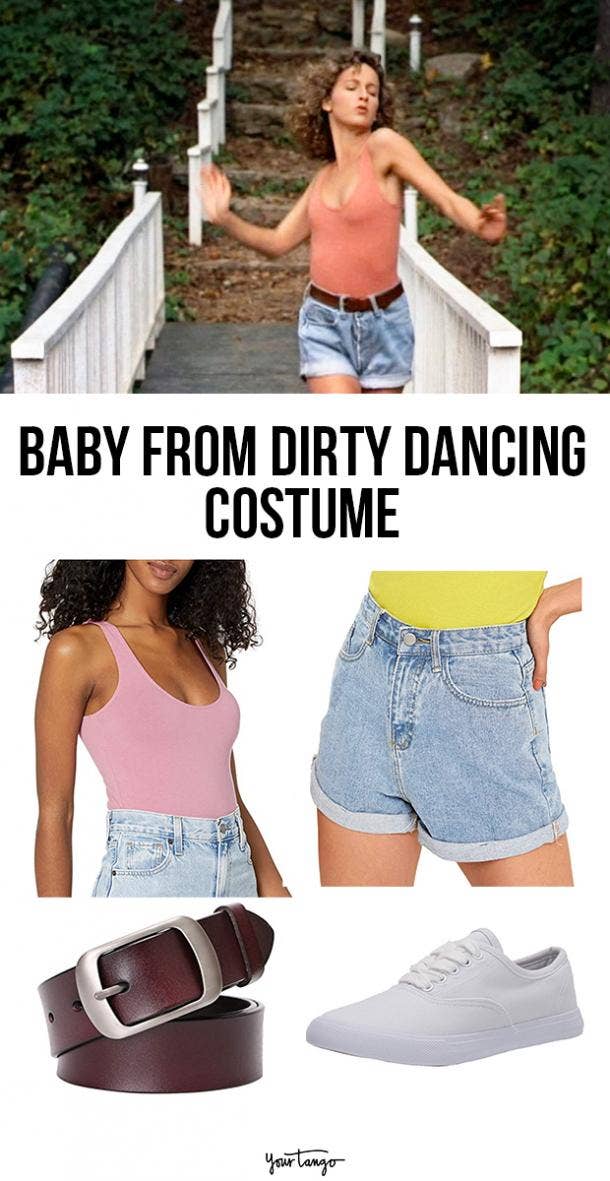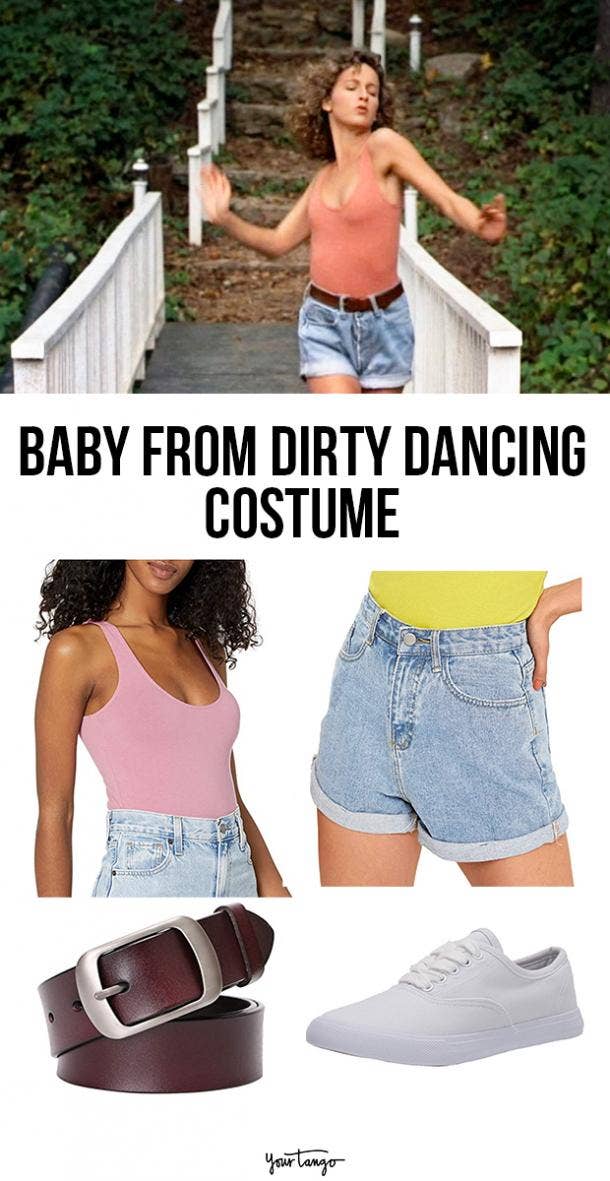 Photo: Vestron Pictures / Amazon
If you're a killer on the dance floor, then this is the perfect costume for you. Dressing up as the character Baby is the ideal costume for the dance lover. All they need is a pink tank top, some high-waisted shorts, and white sneakers. 
14. Smartypants costume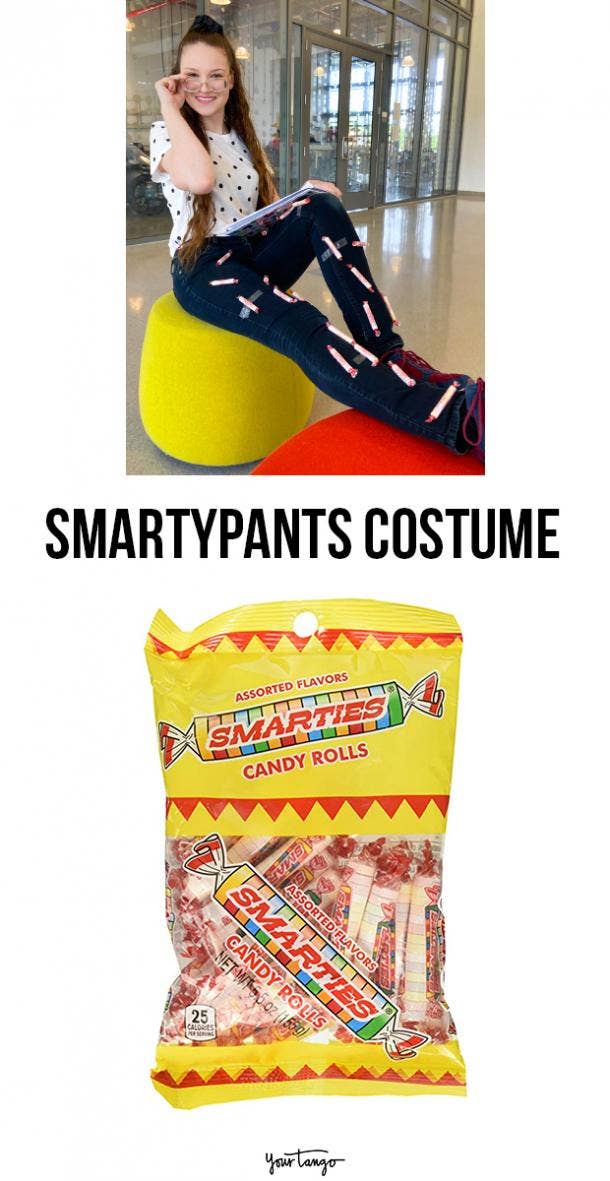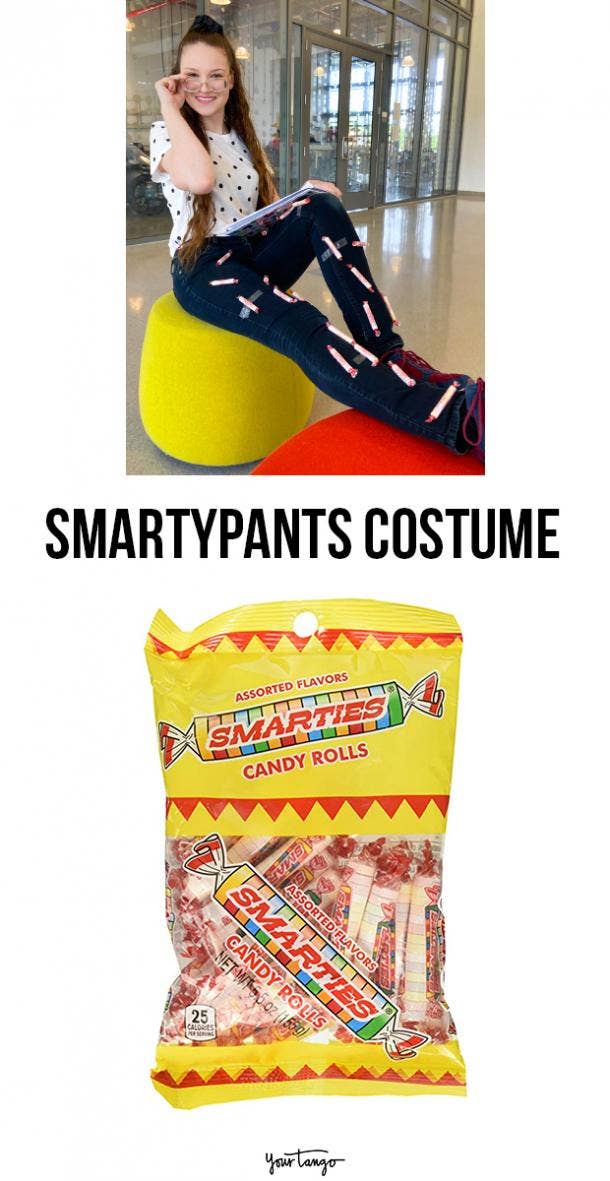 Photo: Lamar University / Amazon
This is probably one the easiest costumes you can create as it's very recognizable and perfect if you're a fan of the popular candy Smarties. All you need to do is tape some Smarties to your pants and wear some suspenders or fake glasses for the full effect. Just make sure no one steals any of the candy off your pants if you go to a party!
15. Velma Dinkley from Scooby-Doo costume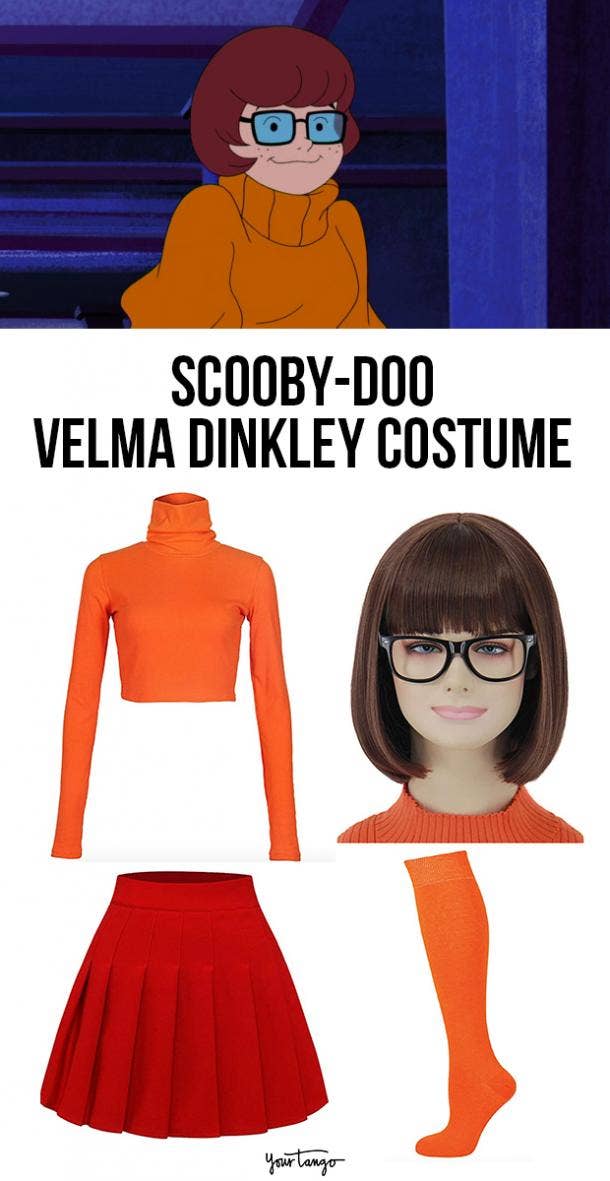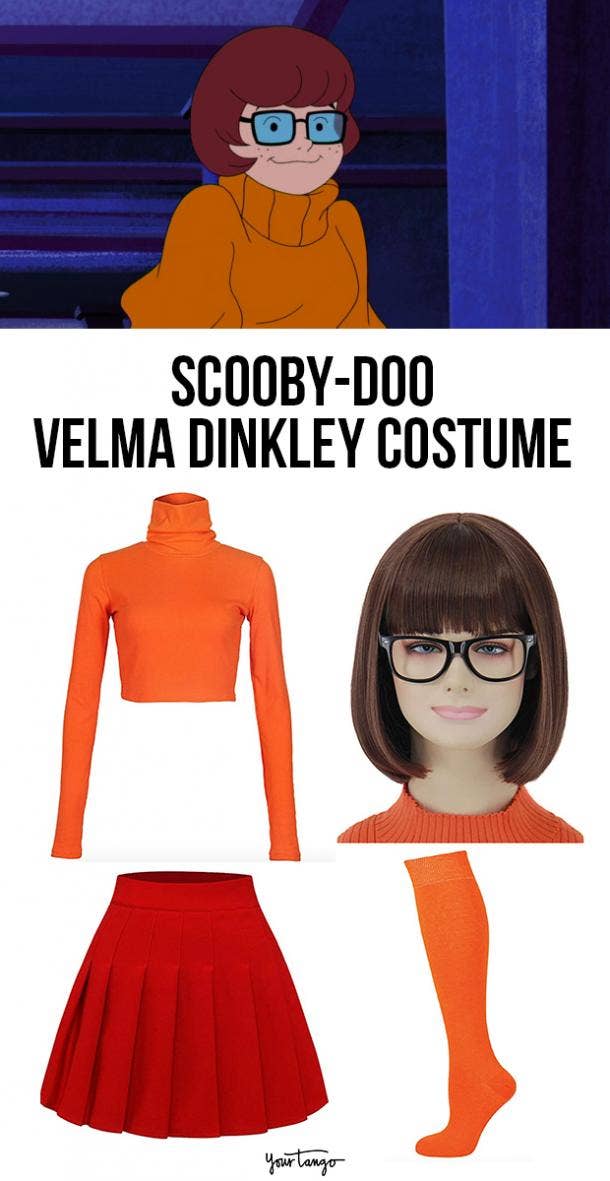 Photo: Warner Bros / Amazon
Dressing up as Velma for Halloween is perfect if you own a lot of orange in your closet. All you need is an orange sweater, red or orange skirt, orange socks, and some glasses and Mary Janes and you're good to go. 
16. Queen of Emoticons costume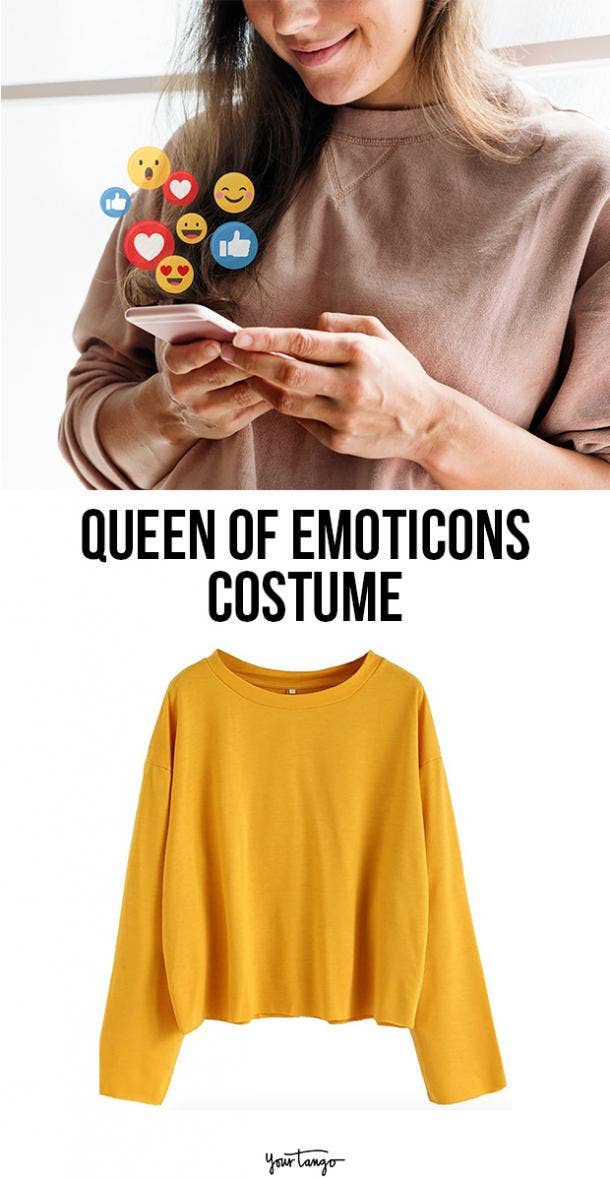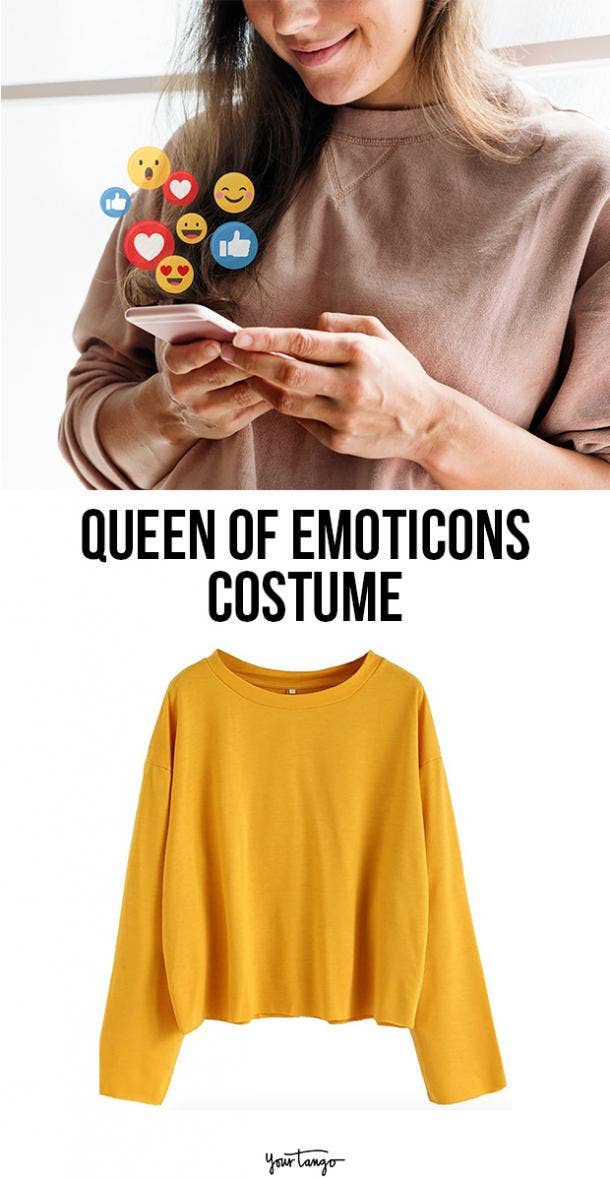 Photo: Rawpixel.com / Shutterstock / Amazon
Do you love using emojis? If so, you should dress up in this costume and everyone will get a good kick out of it.
All you need is a yellow top and headband and a printer. Print out all your most used emoticons and tape them all over your shirt and make a crown of them on your headband. 
17. Starbucks cup costume
 Photo: Chutima Chaochaiya / Shutterstock / Amazon
This is an easy costume to create and perfect for all the coffee lovers out there. All you need is a bodycon white dress and brown paper bags. Tape the bags around your waist and then add a printed picture of the Starbucks logo on top of the brown paper "cupholder" and voila!
18. Risky Business costume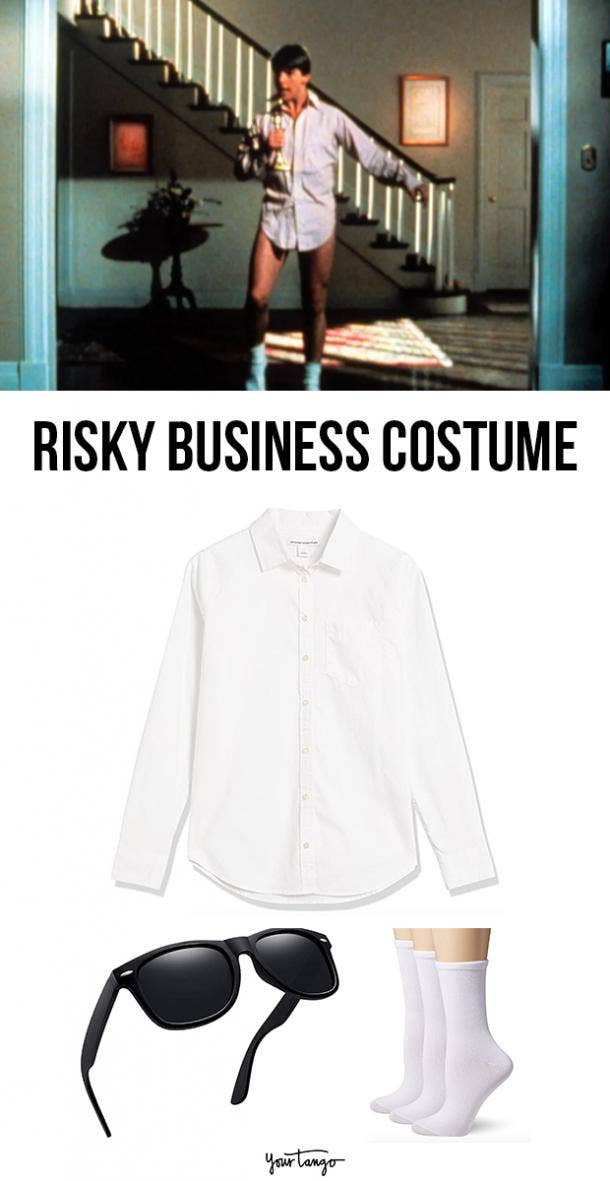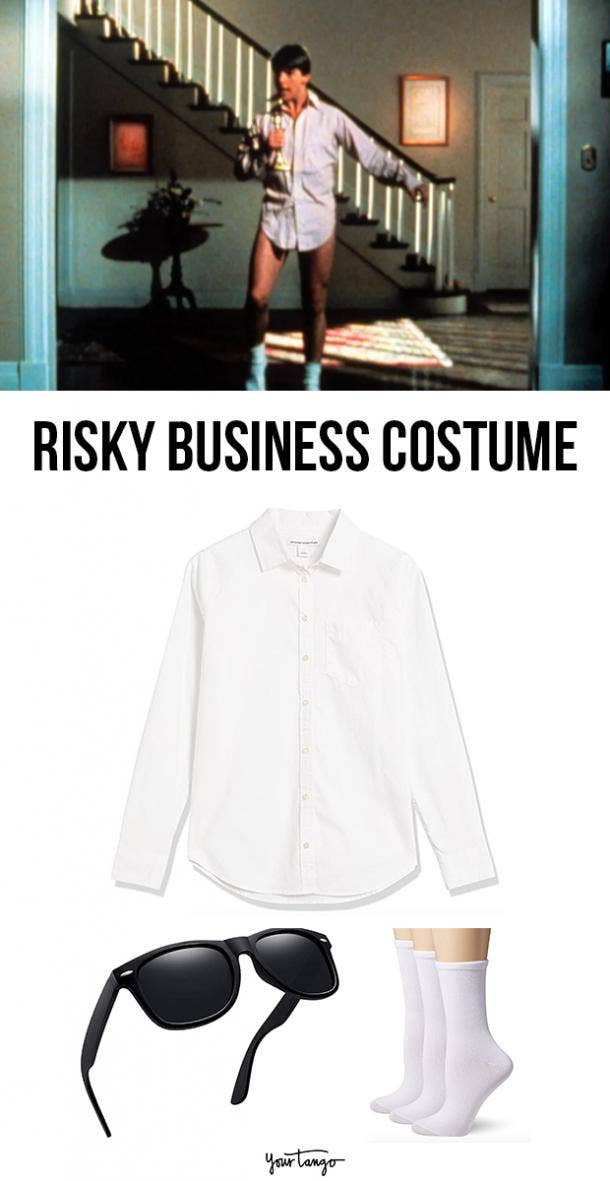 Photo: Warner Bros / Amazon
Hooray for another easy and iconic Halloween costume from the '80s! Tom Cruise's unforgettable dancing scene in "Risky Business" wearing underwear and an oversized white button-down shirt makes a fun and easy costume.
Most people add the touch of some black sunglasses as the movie cover features Cruise's face wearing sunglasses. 
19. Black Cat costume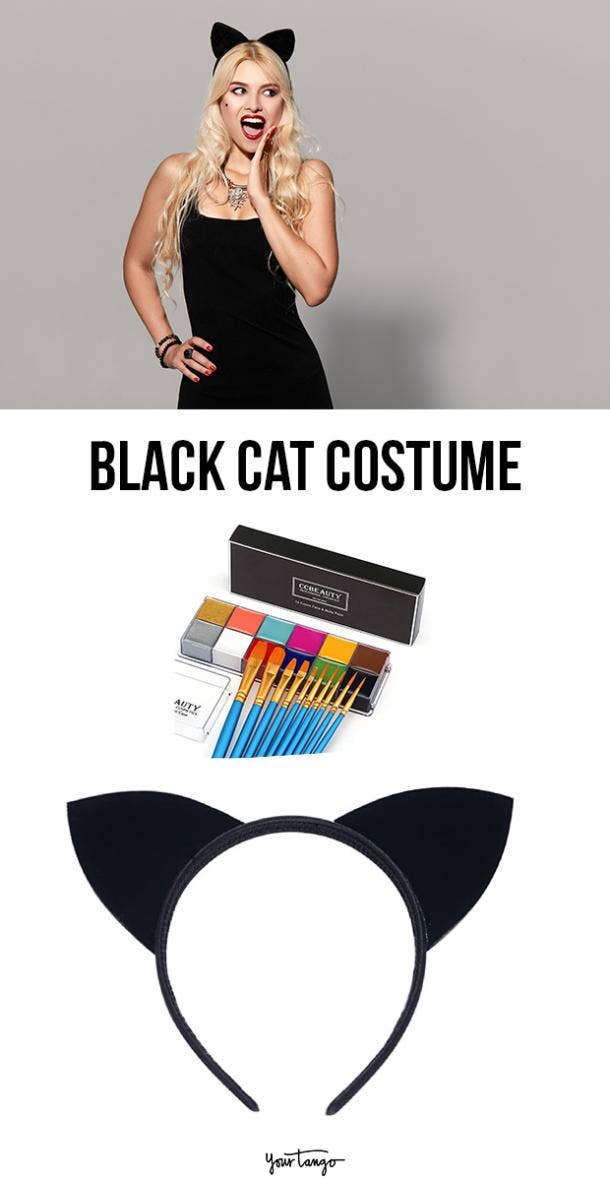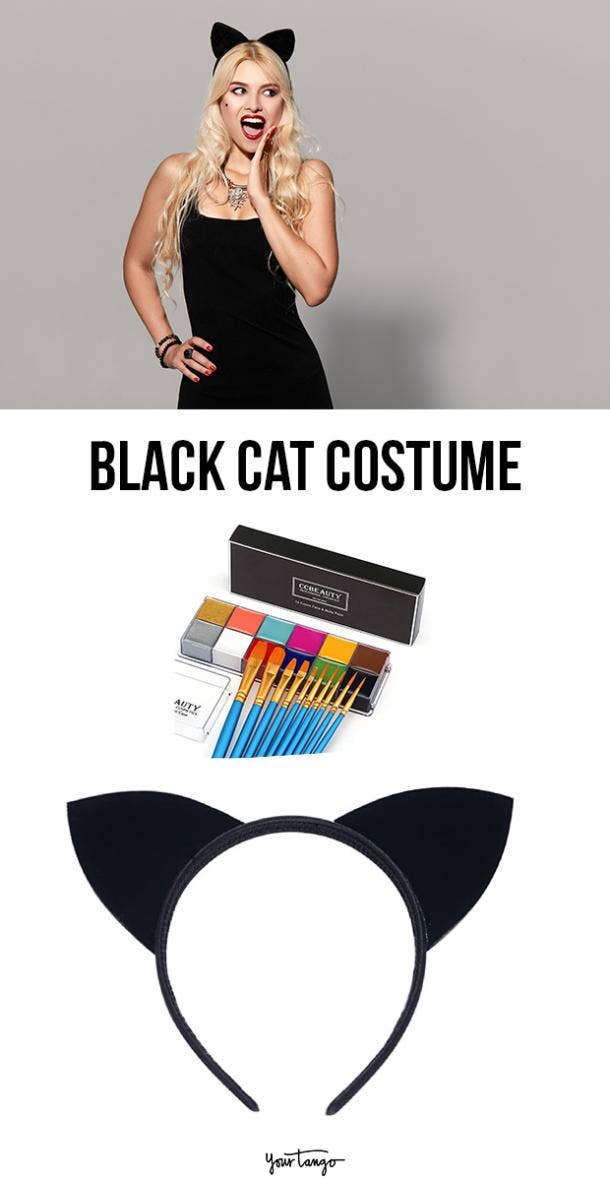 Photo: oes / Shutterstock / Amazon
I'm a cat, duh. 
Not every costume needs to be full-on, but making your own DIY cat ears and wearing all black can help create the effect. All you need to do is cut out the shape of cat ears and tape onto a headband…
[ad_2]

Read More:75 Best Last Minute Halloween Costume Ideas For Procrastinators In 2021