I'm a sucker for a good set, especially a patterned one. Now that the sun is finally showing up more regularly, I've been eagerly busting out my linen go-to's, from this pair of linen pants (a true editor favorite!) to linen dresses for spring. I've been on the hunt for a good pair of shorts to add to my collection, and as soon as I saw this Old Navy Oversized Striped Linen Blend Boyfriend Shirt ($32, originally $40) and matching High-Waisted Shorts ($15, originally $30), I knew I had to have both.
What I Love About Old Navy's Oversized Striped Linen Blend Boyfriend Shirt And High-Waisted Shorts
There's so much to love about this set, but what immediately caught my eye was the coral pink striped pattern. I have plenty of white and beige linen pieces, but this color and pattern combination feels fresh and cheery — putting the top and shorts on together gives you an instant serotonin boost.
I like to feel like I'm swimming a bit in my button up shirts — tight or overly clingy button ups feel stiff and constricting to me. The oversized fit of this top makes it feel more like a pajama top than a standard button up, which I love. You can play around with the proportions by rolling up the sleeves, partially tucking in one half of the shirt, or just leaving it long and untucked. I've also been tucking this top into my high-waisted, wide-leg jeans on days when I need more coverage and they also work great together.
The linen-blend shorts are just as amazing as the top. They're stretchy and easy — no zipper or buttons. The three and a half inch seam is perfect for warm days but also long enough that you can still see them under the shirt if I choose to leave it untucked. The cuffed hem and the back pockets add just enough polish so that they look pulled together and less casual than they feel.
What's Worth Noting About Old Navy's Oversized Striped Linen Blend Boyfriend Shirt And High-Waisted Shorts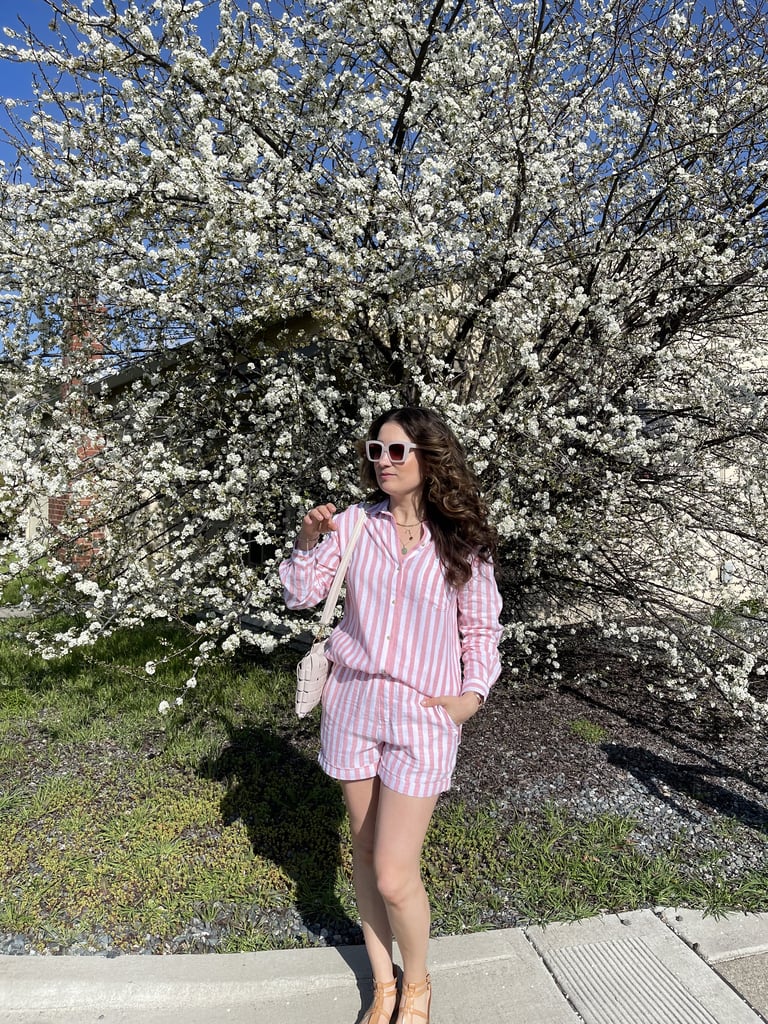 Like linen sheets, linen clothing takes a little getting used to. It's a highly textured fabric that can feel a little rough when you first slip into it. The first time that I tried these pieces on, I remember noticing that the material wasn't as soft as I wanted it to be. After wearing them for five minutes though, I didn't even notice it anymore. They've also gotten softer after washing them a couple of times. I'm very sensitive to sensory triggers in clothing like tags, rough or itchy fabrics, and it truly doesn't bother me anymore. That said, it was something I initially noticed.
The shorts are an incredible deal right now (on sale for $15!), but if you can't find your size, this set also comes in a beautiful pale green and pink striped version as well.
Who Is Old Navy's Oversized Striped Linen Blend Boyfriend Shirt And High-Waisted Shorts Best For?
This set is perfect for linen lovers who want to disrupt the sea of creamy neutrals in favor of something that makes a statement. The pastel color is perfect for spring, but you'll get a ton of use out of it through Summer, especially if you switch out the top for a crisp T-shirt or tank top. In fall, you can wear the top with jeans or trousers. If you're looking for a breathable top and bottom set for a relaxed and elevated look, it doesn't get cuter or more affordable than this linen-blend duo.
Additional Details About Old Navy's Oversized Striped Linen Blend Boyfriend Shirt And High-Waisted Shorts
The shorts have a three and a half inch inseam.
The shorts are 55 percent linen (flax) and 45 percent cotton.
The shirt is 55 percent linen and 45 percent viscose rayon.
The shirt has a loose, oversized fit and hits at the hip.
Both pieces should be washed on a cold, gentle cycle and hung to dry.
Rating: