Once I began working from home full-time, I started exploring new ways of making my work wardrobe a bit more, well, comfortable — think less trousers and button-down shirts and more bodysuits, oversize blazers, and UGG slippers galore. While most of my closet got a total overhaul, several pieces are so versatile and cozy that they managed to withstand the transition — particularly my cashmere sweaters, which were such a hefty investment, I couldn't bring myself to part with them. Growing up, I always viewed cashmere as a luxury — perhaps because of the high-end (and often outrageous) price tag that was usually attached to it. I never knew that affordable cashmere was even an option until an Instagram video introduced me to Quince, a cult-favorite fashion label with a mission statement that literally reads: "High Quality Essentials, Radically Low Prices."
Naturally, I was eager to test out the styles firsthand to see if they truly lived up to the hype. So when Quince kindly offered to send some pieces my way, I opted to try a few bestsellers — namely the Quince Mongolian Cashmere Crewneck Sweater ($50) (aka the style that made them famous) and the Quince Mongolian Cashmere Sweatpants ($100). Ahead, read through my review of Quince's viral cashmere loungewear to see if these cozy wardrobe essentials are worth adding to your closet. Spoiler: they totally are.
What I Like About This Quince Cashmere Loungewear
First and foremost, I love the affordability of Quince's cashmere selection. Before discovering the brand, I was totally unaware that affordable cashmere pieces even existed — let alone that I could shop out styles for under $100 (truly unheard of!). The crewneck sweater is marketed as being the brand's bestseller, but in reality, it's just one of many feasible cashmere pieces from the label. From pullover hoodies and oversize cardigan sweaters to cropped tanks, turtleneck dresses, and even baseball caps that resemble the styles famously worn by Kendall Roy in "Succession" — though this version is likely much more affordable — Quince has no shortage of quality cashmere pieces that look luxe, feel addictively soft (speaking from experience here), and seemingly all fall under the spending threshold of $150.
Another big appeal of these cashmere styles is that they can be washed at home. Unlike my other cashmere sweaters, which require constant upkeep and can only be washed at a dry cleaner, these pieces have pretty simple care instructions which allow me to clean them in my own apartment — no extra cost of visiting a local washer required. As recommended by the brand, I simply hand wash my Quince styles in cold water, pairing them with a "neutral soap or baby shampoo." After that, I'll carefully rinse the soap out of the pieces — ensuring the materials don't rub together — and then lay them flat to dry at room temperature.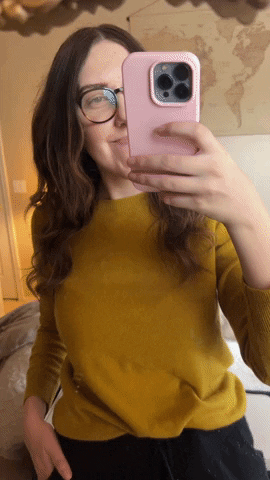 What's Worth Noting
Frankly, there's not much that I don't like about these cashmere pieces. After sifting through dozens of near-perfect reviews on Quince's website, I went into my testing experience with high expectations for both the crewneck sweater and the cashmere joggers. Somehow both styles managed to exceed my larger-than-life predictions, and they've each become staple loungewear pieces in my wardrobe. My only note is that many of Quince's cashmere styles tend to err on the larger side, which is detailed in several of the (still great) reviews posted on the brand's website. I opted to try both the sweater and sweatpants in my typical medium size and found that while the styles fit comfortably, I likely could have gotten away with sizing down for a more fitted look. My recommendation is to refer to the brand's size chart, and make your purchase based on what your preferred fit is.
Who Is This Quince Cashmere Loungewear Best For?
Quince's quality loungewear styles are great for anyone who (like me) loves the luxurious feeling of cashmere, but doesn't necessarily love the expensive nature and upkeep that comes with owning these types of pieces. Both the crewneck sweater and joggers have the same softness of a traditional piece of cashmere — I compared them with a few of my other, more high-end styles and discovered little to no difference in the feel of the material — and yet, they're both available to shop at a fraction of the cost of other pieces. If you value having comfortable styles incorporated into your wardrobe that are designed to last and don't cost a fortune (the real selling point here!), you really can't go wrong with investing in Quince's cashmere loungewear.
Where Is This Quince Cashmere Loungewear Available?
This sweater and sweatpants set is available to shop exclusively at Quince.
Additional Details
Similar to much of Quince's cashmere styles, the crewneck sweater and jogger sweatpants are crafted from a 100 percent Grade-A Mongolian cashmere material that's soft to the touch, ethically made, and designed to last.
The crewneck sweater is available to shop in 13 different colors (with the spicy mustard being my shade of choice), while the cashmere sweatpants are available to shop in six different colors, including black, navy, heather gray, and burgundy.
Unlike other cashmere styles, these pieces can be hand washed at home using cold water and a gentle soap. For after care, users are encouraged to "rinse out without rubbing," and dry the piece flat at room temperature — as detailed on Quince's website.
Rating:

Image Source: POPSUGAR Photography / Kyley Warren