I dedicate a pretty decent amount of time each week to scrolling through Target's clothing section, which I'd imagine doesn't come as much of a surprise to anyone who truly knows me — perhaps even those who don't, including the very gracious FedEx man who frequents my house so often, we're practically on a first-name basis at this point. Moving on! One of the benefits to my shopping addiction (besides the fact that my closet now looks good 24/7) is that I'm uniquely clued in on which styles are truly beloved by my other fellow Target shoppers. In all truth, I've found very few Target pieces that seem to fall short of customers' expectations. However, I have come across a few standout styles that are so great, the product actually boasts hundreds of rave customer reviews — with one in particular being this Universal Thread Crewneck Pullover Sweater ($25).
The cozy crewneck style is actually labeled as being Target's bestselling sweater on the retailer's website and features nearly 300 reviews with customers raving about everything from the piece's lightweight-nature and variety of colors to the comfortability of the must-have sweater, with one user even noting that the style is so soft, she felt as thought she was "wearing a cozy blanket." As any sound shopper would, I immediately added the sweater to my digital shopping cart, and after a few wears, can now confirm that the Target sweater really does live up to all of the hype. Keep reading to see my full review on this top-rated style!
What I Like About This Target Universal Thread Sweater
Frankly, the biggest draw to this sweater for me was the top's notable quality and affordable price tag, which were both major pluses in my book considering how quickly I go through these sorts of styles. For context: winter is probably my favorite season of the entire year. I love the cold, I love wearing cozy sweaters, and as such, I often have a habit of overwearing the hell out of them the second the temperature drops below 70 degrees (sometimes even long before that). As a result, I tend to wear out my sweaters faster than any other style in my wardrobe and am constantly forced to invest in new ones each year. While I love splurging on more luxurious designer and cashmere pieces every once in a while, I also appreciate having a handful of breezy, affordable sweaters that I can wear on repeat throughout the winter without fear of them getting damaged, stretched out, or even showing too much wear. This Target sweater has proven to be that go-to style for me.
With its cotton-blend composition, the sweater is super cozy and plush, with an understated and simple design that's elevated by a thoughtful knit detailing (which provides such a great layer of added texture) along with ribbed cuff and hem accents. While the sweater is available to shop in a wide variety of colors, I opted for the taupe shade, assuming it would be the most versatile color to pair with my otherwise neutral-hued closet. Not only does it go beautifully with just about anything in my wardrobe, it's incredibly easy to dress up or down, too. I've already managed to wear this sweater everywhere — around my house while working from home, out on a brunch date with girlfriends (and paired with high-waisted jeans and knee-high boots, no less), as well as to a late-night cocktail experience where I glitzed the style up with faux-leather pants, black pumps, and a statement evening bag. You can't beat that kind of styling versatility — especially for only $25!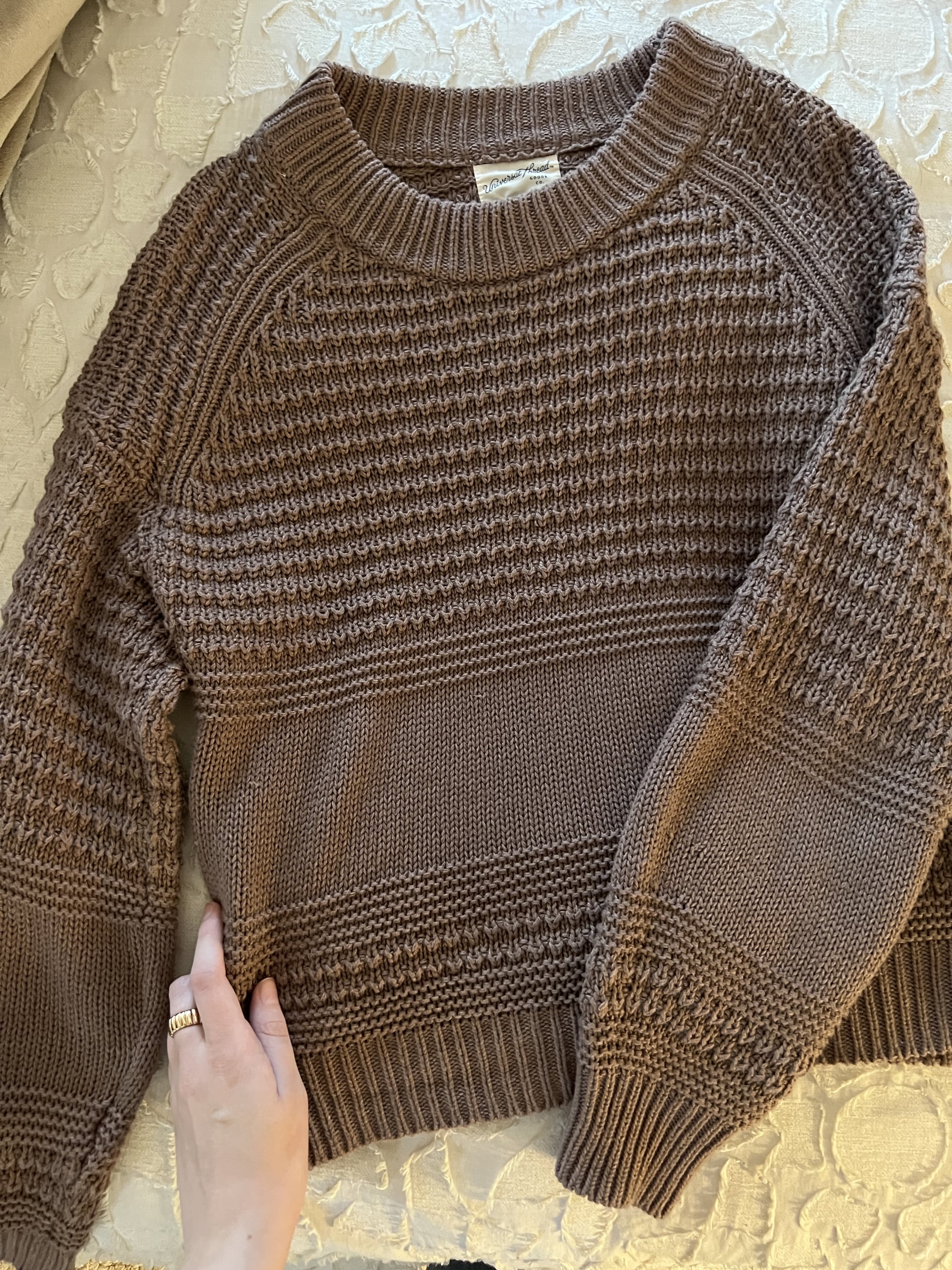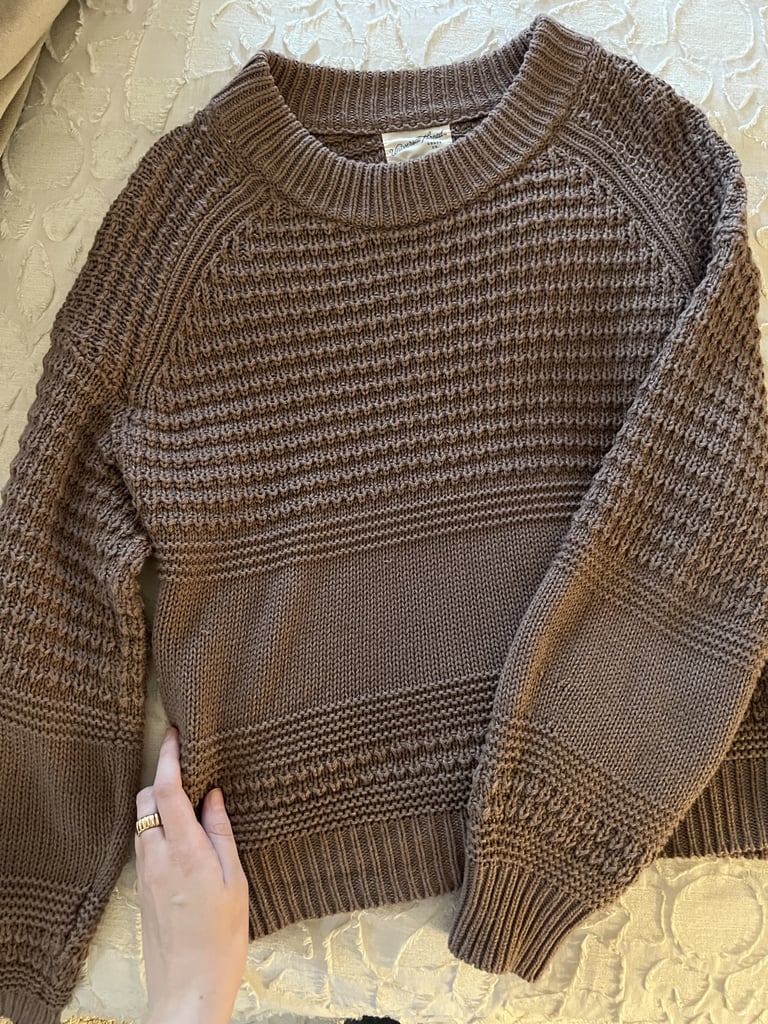 What's Worth Noting
The biggest thing worth noting about this sweater (and really a lot of Target's clothing, for that matter) is the sizing. With regard to tops and blouses, I'm typically a medium size, with my perfect fit falling in the range of a 6-8, depending on the material and snugness of the silhouette. As detailed in Target's size chart — which is a resource I'd recommend using any time you order something online from the brand — a small is actually labeled for sizes 4-6, whereas a medium is labeled for sizes 8-10. Naturally, this threw me off a bit when determining which size would prove to be the perfect fit for me. I decided to play it safe and order a medium, assuming that a bigger sweater would still be better than one that fit too tight or felt too constricting. This ended up being the perfect fit for me and provided that looser and more oversize look I tend to prefer with my sweaters, especially when styling them with jeans or even trousers. That being said, if you are someone who like a more snug sweater and are on the fence about sizes, I'd recommend sizing down.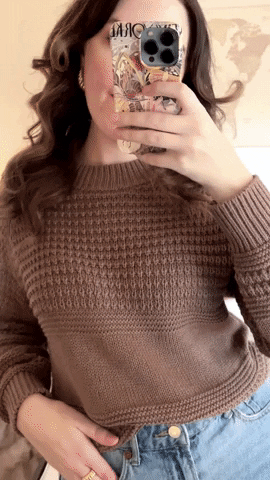 Who Is This Target Sweater Best For?
This sweater is ideal for anyone hoping to invest in a few more quality sweaters for winter that not only won't break the bank but will also provide plenty of styling opportunities for the future seasons still to come. The piece is thick enough to provide ample warmth, yet still lightweight enough to be layered with bulkier winter coats and jackets. This time of year, I find that I can never have too many sweaters on hand. And if you (like me) love having easy pullover styles that can make you look put together with little to no effort, this Target style is a piece you'll be reaching for all the time.
Where Is This Universal Thread Sweater Available?
The Universal Thread Crewneck Pullover Sweater ($25) is available to shop exclusively at Target.
Additional Details
The crewneck pullover sweater is available to shop in eight colors including taupe (my shade of choice!), charcoal gray, cream, olive green, red, and yellow.
The style is crafted from a knit cotton-blend construction that's both comfortable and incredibly lightweight.
This Target sweater also boasts a regular-fit design and can be machine washed normally after wear.
Rating:

Image Source: POPSUGAR Photography / Kyley Warren