The pandemic changed a lot about how I live my day-to-day life, but I'd say the most notable difference is definitely in my clothing. As anyone who went to high school or college with me could probably tell you, I've long had a knack for overdressing — and not just in the typical sense of dressing nicer at otherwise casual events, but rather in the completely impractical way of wearing stuffy and uncomfortable (yet still totally elevated!) styles in truly the most inconvenient situations. Prepandemic, you'd find me wearing heeled Steve Madden boots on a road trip to Sedona and a tailored blazer to a babysitting job. Any inkling of practicality or common sense basically left my body the moment I entered my closet. It never made sense — but damn, did my outfits always look good.
These days, my style has undergone a pretty drastic transformation. Sure, I still love getting glammed up from time to time, and yes, my closet is still overflowing with an unseemly amount of blazers. But my fashion taste now prioritizes comfort much more than it used to. I no longer want a style that I simply look good in — I need one that also makes me feel really good (which usually coincides with being comfortable or breathable). For years, friends who similarly valued having comfier styles in their closets have told me that NYDJ is a must-shop retailer, simply for the cozy fashion alone. Naturally, when I was given the chance to test out its luxe NYDJ Faux-Leather Marilyn Straight Pants ($89) (a style you wouldn't assume to be comfortable at all), I jumped at the opportunity.
Much to my dismay, the rave reviews I'd heard from friends over the years did, indeed, live up to the hype. And now I'm left trying to figure out how the most comfortable bottom in my entire closet is . . . a faux-leather pant — of all the styles out there! Trust me, folks: it's that good. Read on for my honest review of this NYDJ piece and why I've been wearing this pant on repeat this fall.
What I Like About These NYDJ Faux-Leather Pants
As can probably be assumed by my introductory thoughts about these pants, the real highlight for me is just how comfortable the bottom actually is. I've owned plenty of leather and faux-leather styles over the years, but none have impressed me (or proved to be quite as comfortable) as this NYDJ style. The bottom is wrapped in a super-sculpting compression faux leather and is part of NYDJ's Sculpt-Her collection, which is an edit of the brand's most "compression-contouring silhouettes," all of which seamlessly hug the body and help to create a figure-flattering fit. Unlike other leather-like styles, this pant doesn't feel constricting, and I can move around with total ease.
I also love the rich and unique coloring of this pant. The style comes in a cordovan brown shade that reminds me of a milky chocolate hue — soft and totally divine! The bottom adds some much-needed color to my otherwise dark and basic collection of black faux-leather pants (though if the cordovan isn't your shade of choice, this style also comes in a sleek black colorway). I find that with this color, I have more opportunity to style my fall outfits differently, all while playing into the season's more neutral color palette. The below image showcases the NYDJ cordovan faux-leather pant ($89) style (left) alongside a similar pair of black faux-leather pants that I own (right) for reference.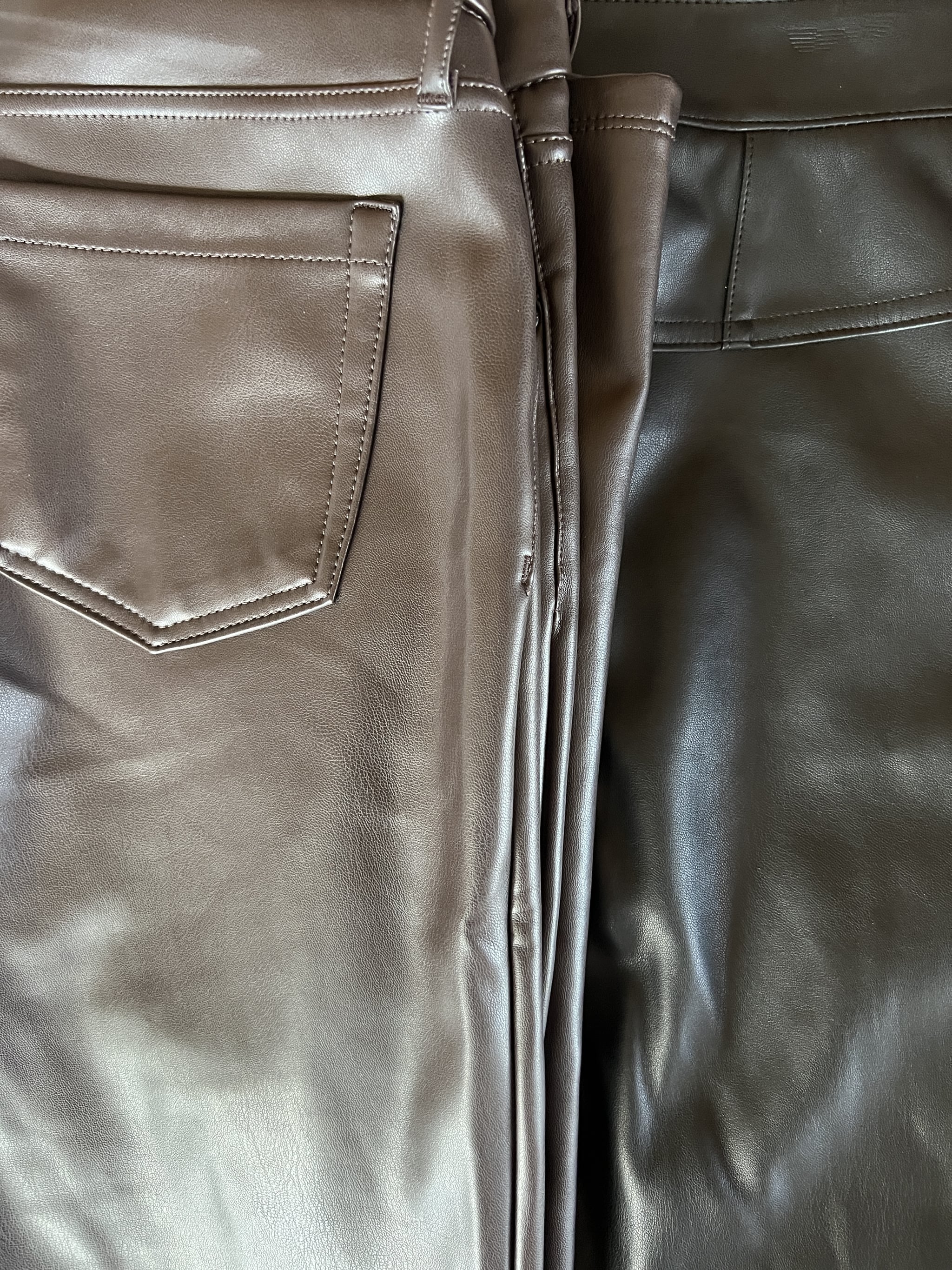 What's Worth Noting
These pants are quite literally fitted with a proprietary slimming panel. As such, shoppers are encouraged (per the retailer's recommendation) to size down when ordering the bottom. My normal pant size is a six, so as directed by the NYDJ sizing guide listed at the bottom of the product page, I instead ordered this faux-leather pant in a size four. The fit ended up being perfect, and other reviewers on the brand's site also claimed that sizing down gave them their perfect fit. Before ordering, just be sure to refer to NYDJ's sizing guide to ensure you shop out the perfect style for you!
Who Are These NYDJ Faux-Leather Pants Best For?
These NYDJ faux-leather pants are perfect for any fashionista who values comfort but doesn't necessarily want to also sacrifice their own style in the process. These pants provide so much styling versatility for me. I've dressed them down on a number of occasions simply by throwing on an oversize sweater along with my old Air Force 1s to create a more relaxed daytime look that's comfortable all around. Alternatively, I've also dressed them up with a nude bodysuit, a blazer, and open-toed heels for a more polished nighttime look that's completely fresh and (best of all!) sure to keep me feeling good and comfy even late into the evening.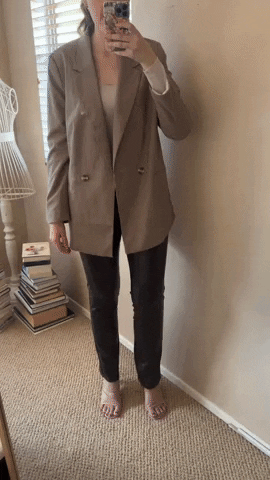 Where Are the NYDJ Faux-Leather Pants Available?
These NYDJ Faux-Leather Marilyn Straight Pants are available at NYDJ ($89) and Nordstrom.
Additional Details
These pants are incredibly figure flattering, as they're crafted with a patented crisscross design that helps to shape and support curves, creating an even sleeker look.
The faux-leather pants are available in US women's sizes 0-18.
The NYDJ Faux-Leather Marilyn Pant is available in the cordovan brown coloring (my shade of choice), as well as in a sleek black style that comes in regular and plus-sizes.
Rating:

Image Source: POPSUGAR Photography / Kyley Warren